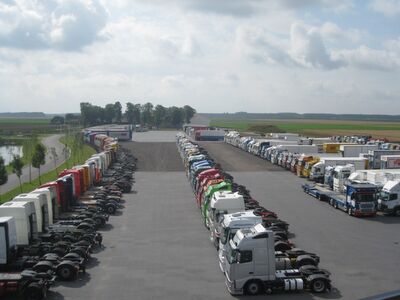 Hulleman Trucks B.V.

Hulleman Trucks is a small Dutch company dealing with used trucks, tractors, trailers and semitrailers manufactured by DAF, IVECO, MAN, MERCEDES, RENAULT, SCANIA, VOLVO, etc.

In our market place we have an extensive selection of vehicles perfectly meeting your needs to keep your business rolling.

The company sells up to 450 vehicle units annually. Our main partners are located in Europe.

We strive to increase customer satisfaction by continuously improving the quality system and performance of our motivated staff.

We look forward to welcoming you in our company!
Contacts
18 years at Machineryline
The phone numbers have been checked
The address has been checked
Verkoop afdeling
Languages:
English, Spanish, German, French, Dutch
Netherlands, Flevoland, 8325 GG, Marknesse, D.P.A. Weeversstraat 2
Seller's local time: 10:22 (CEST)
Advertisements Hulleman Trucks B.V.
See all photos (21)
Year
2012
Mileage
6973 m/h
Power
Year
2012
Mileage
6973 m/h
Power
Year
2018
Mileage
12418 m/h
Power
Year
2016
Mileage
7522 m/h
Power
Year
2001
Mileage
13407 m/h
Power
Year
2001
Mileage
13407 m/h
Power
See all photos (18)
Year
2012
Mileage
16671 m/h
Power
Year
2017
Mileage
9588 m/h
Power
Year
2016
Mileage
7522 m/h
Power
Year
2019
Mileage
1658 m/h
Power
Year
2016
Mileage
663 m/h
Power
Year
2016
Mileage
663 m/h
Power
Year
2018
Mileage
8688 m/h
Power
Year
2014
Mileage
11827 m/h
Power
Year
2017
Mileage
9365 m/h
Power