The ad New ROZEN r-450 tunnel oven has been sold and is not included in the search!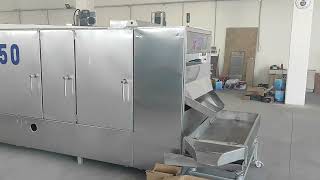 1/3
Year of manufacture
02/2023
Location
Turkey
DENİZLİ
Placed on
more than 1 month
Description
Overall dimensions
8 m × 2.4 m × 2.6 m
The tunnel oven is of a pass-through type, designed for frying with hot air. There are 4 chambers in the furnace: 2 frying chambers, a settling chamber and a forced cooling chamber.

Both frying chambers have a humidity setting. The accumulated moist air inside the chambers is released by a fan, which ensures that there is no moisture in the roasting chamber. The sludge chamber provides the products with a rich taste, and the cooling chamber with forced air supply cools the products to room temperature.

A distinctive feature of the oven is the function of regulating the temperature of each chamber, which ensures uniform roasting of products with high quality with a shelf life for a longer period.

The thermal insulation system of the furnaces provides 30% energy saving. You get products on a large scale economically.

The oven is universal: the possibility of frying not only seeds, but also peanuts, hazelnuts and other nuts.

Automation of equipment simplifies work by reducing the number of employees by 1-2.

Fuel type: gas (natural and liquefied), diesel, electricity. All equipment, including wire mesh tape, is made of stainless steel. The speed of the tape movement and the thickness of the fried product are regulated.

The oven guarantees the highest taste indicators of your products.

Options:

Data recording system
Tape Cleaning Device
Tape washing device
PLC control panel

Furnace performance:

Sunflower seeds 200- 250 kg/h
Peanuts 250 — 300 kg/h
Hazelnuts 400-500 kg/h
Pumpkin seeds 200-250 kg/h
Almonds 200-250 kg/h,
Pistachio 200-300 kg/h
Cashews 200-300 kg/h

Equipment:
- Frying oven
- Installation of automatic salting
- Vibrating screen
- Z conveyor
- PVC conveyor.
فرن النفق من النوع المار ، مصمم للقلي بالهواء الساخن. هناك 4 غرف في الفرن: 2 غرف القلي ، وغرفة تسوية وغرفة التبريد القسري.

تحتوي كلتا غرفتي القلي على إعداد رطوبة. يتم إطلاق الهواء الرطب المتراكم داخل الغرف بواسطة مروحة ، مما يضمن عدم وجود رطوبة في غرفة التحميص. توفر غرفة الحمأة المنتجات مع طعم غني ، وغرفة التبريد مع إمدادات الهواء القسري يبرد المنتجات إلى درجة حرارة الغرفة.

السمة المميزة للفرن هي وظيفة تنظيم درجة حرارة كل غرفة ، مما يضمن تحميصا موحدا للمنتجات ذات الجودة العالية مع فترة صلاحية لفترة أطول.

يوفر نظام العزل الحراري للأفران توفير الطاقة بنسبة 30٪. تحصل على منتجات على نطاق واسع اقتصاديا.

الفرن عالمي: إمكانية القلي ليس فقط البذور ، ولكن أيضا الفول السوداني والبندق والمكسرات الأخرى.

تعمل أتمتة المعدات على تبسيط العمل عن طريق تقليل عدد الموظفين بمقدار 1-2.

نوع الوقود: غاز (طبيعي ومسال) ، ديزل ، كهرباء. جميع المعدات ، بما في ذلك شريط شبكة سلكية ، مصنوعة من الفولاذ المقاوم للصدأ. يتم تنظيم سرعة حركة الشريط وسمك المنتج المقلي.

يضمن الفرن أعلى مؤشرات الذوق لمنتجاتك.

الخيارات:

نظام تسجيل البيانات
جهاز تنظيف الشريط
جهاز غسل الشريط
لوحة التحكم بلك

أداء الفرن:

بذور عباد الشمس 200-250 كجم / ساعة
الفول السوداني 200-250 كجم / ساعة
البندق 500-400 كجم / ساعة
بذور اليقطين 200-250 كجم / ساعة
اللوز 200-250 كجم / ساعة,
الفستق 200-250 كجم / ساعة
الكاجو 200-300 كجم / ساعة

المعدات:
- فرن القلي
- تركيب التمليح التلقائي
- تهتز الشاشة
-ناقل على شكل ض
- ناقل بولي كلوريد الفينيل.
Le four tunnel est de type traversant, conçu pour la friture à l'air chaud. Il y a 4 chambres dans le four: 2 chambres de friture, une chambre de décantation et une chambre de refroidissement forcé.

Les deux chambres de friture ont un réglage d'humidité. L'air humide accumulé à l'intérieur des chambres est libéré par un ventilateur, ce qui garantit qu'il n'y a pas d'humidité dans la chambre de torréfaction. La chambre à boues donne aux produits un goût riche et la chambre de refroidissement avec alimentation en air pulsé refroidit les produits à température ambiante.

Une caractéristique distinctive du four est la fonction de régulation de la température de chaque chambre, ce qui garantit une torréfaction uniforme des produits de haute qualité avec une durée de conservation plus longue.

Le système d'isolation thermique des fours permet une économie d'énergie de 30%. Vous obtenez des produits à grande échelle économiquement.

Le four est universel: la possibilité de frire non seulement des graines, mais aussi des arachides, des noisettes et d'autres noix.

L'automatisation des équipements simplifie le travail en réduisant le nombre d'employés de 1 à 2.

Type de carburant: gaz (naturel et liquéfié), diesel, électricité. Tous les équipements, y compris le ruban de treillis métallique, sont en acier inoxydable. La vitesse du mouvement de la bande et l'épaisseur du produit frit sont régulées.

Le four garantit les indicateurs de goût les plus élevés de vos produits.

Option:

Système d'enregistrement de données
Dispositif de Nettoyage de Bande
Dispositif de lavage de bande
Panneau de commande PLC

Performance du four:

Graines de tournesol 200-250 kg / h
Arachides 200-250 kg / h
Noisettes 400-500 kg / h
Graines de citrouille 200-250 kg / h
Amandes 250-300 kg / h,
Pistache 200-250 kg / heure
Noix de cajou 200-300 kg / h

Équipement:
- Four à friture
- Installation de salage automatique
- Tamis vibrant
- Convoyeur en forme de Z
- Convoyeur en PVC.
Печь туннельная проходного типа, предназначена для жарки горячим воздухом. В печи 4 камеры: 2 жарочной камеры, камера отстоя и камера принудительного охлаждения.

Обе жарочные камеры имеют настройку влажности. Скопившийся влажный воздух внутри камер выпускается вентилятором, что обеспечивает отсутствие влаги в обжарочной камере. Камера отстоя обеспечивает продукции насыщенный вкус, а камера охлаждения с принудительной подачей воздуха охлаждает продукцию до комнатной температуры.

Отличительная особенность печи - функция регулирования температуры каждой камеры, что обеспечивает продукции равномерное обжаривание с высоким качеством со сроком хранения на более длительный срок.

Cистема теплоизоляции печей обеспечивает 30% энергосбережение. Вы получаете продукцию в больших масштабах экономично.

Печь универсальна: возможность обжаривания не только семечек, но и арахиса, фундука и др. орехов.

Автоматизация оборудования упрощает работу, сокращая количество работников на 1-2.

Вид топлива: газ (природный и сжиженный), дизель, электричество. Всё оборудование, включая ленту из проволочной сети, изготавливается из нержавеющей стали. Регулируется скорость движения ленты и толщина обжариваемого продукта.

Печь гарантирует самые высокие вкусовые показатели вашей продукции.

Опции:

Система записи данных
Устройство очистки ленты
Устройство мойки ленты
Пульт управления PLC

Производительность печи:

Семечки подсолнечника 200- 250 кг/ч
Арахис 200- 250 кг/ч
Фундук 400-500 кг/ч
Тыквенные семечки 200- 250 кг/ч
Миндаль 200- 250 кг/ч,
Фисташка 200- 250 кг/ч
Кешью 200- 250 кг/ч

Комплектация:
- Жарочная печь
- Установка автоматического соления
- Вибросито
- Транспортер Z образный
- Транспортер PVC.
Tünel fırın, sıcak hava ile kızartma için tasarlanmış, geçiş tipi bir fırındır. Fırında 4 oda vardır: 2 kızartma odası, tortu odası ve zorla soğutma odası.

Her iki kızartma odasının da nem ayarı vardır. Haznelerin içindeki biriken nemli hava bir fan tarafından boşaltılır ve bu da kızartma haznesinde nem bulunmamasını sağlar. Tortu haznesi, ürünlere zengin bir tat verirken, zorunlu hava beslemeli soğutma haznesi ürünleri oda sıcaklığına kadar soğutur.

Fırının ayırt edici özelliği, ürünlerin daha uzun süre raf ömrüne sahip, yüksek kalitede düzgün bir şekilde kavurulmasını sağlayan her odanın sıcaklığı kontrol edilebilir.

Fırın ısı yalıtım sistemi % 30 enerji tasarrufu sağlar.

Fırın evrenseldir: sadece ay çekirdeği değil aynı zamanda yer fıstığı, fındık ve diğer kuruyemişleride kavurabilir.

Ekipmanın otomasyonu, çalışan sayısını 1-2 oranında azaltarak işleri kolaylaştırır.

Yakıt tipi: gaz (doğal ve sıvılaştırılmış), dizel, elektrik. Tel örgü bant da dahil olmak üzere tüm ekipmanlar paslanmaz çelikten imal edilmiştir. Bandın hareket hızı ve kavrulmuş ürünün kalınlığı ayarlanabilir.

Fırın, ürünlerinizin en yüksek lezzet performansını garanti eder.

Seçenekler:

Veri kayıt sistemi
Bant temizleme cihazı
PLC kontrol paneli

Fırın performansı:

Ayçiçeği tohumları 200- 250 kg / saat
Yer Fıstık 250 - 300 kg /s
Fındık 500-600 kg / s
Kabak çekirdeği 200-250 kg / s
Badem 200-250 kg / s,
Antep Fıstığı 200-250 kg / s
Kaju 200-300 kg/saat

Paket içeriği:
- Kavurma Fırını
- Otomatik Tuzlama Makinası
- Titreşimli Elek
- Z Elevatör
- PVC Elevatör