The ad New ULTIMATE VTK 400 SMART Semi Automatic MAP Tray Sealer has been sold and is not included in the search!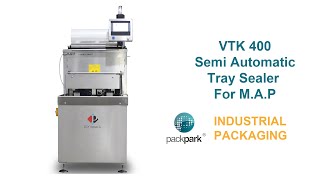 1/2
Model
VTK 400 SMART Semi Automatic MAP Tray Sealer
Location
Turkey
İSTANBUL
Placed on
more than 1 month
VTK 400 SMART Semi Automatic Tray Sealers for M.A.P

VTK 400 SMART Semi Automatic Tray Sealer is a model for industry. Completely made of stainless steel. The mold and aluminum parts are eloxal coated. Values ​​can be monitored numerically and graphically with the touch operator panel and any action can be done easily. The pneumatic system, gas pressure and vacuum values are controlled by sensors on the machine ​​and operator is directed by warning message on display. VTK 400 SMART Semi Automatic Tray Sealer has printed film, non-printed film options and photocell system. It provides unlimited mold choice and high performance with the easy to replace mold system. Safety is provided by CE standards. It automatically switches to stop while installing the film or replacing the mold, by the help of security sensors.

Areas of Application

VTK 400 SMART Semi Automatic Tray Sealer is an ideal model for all sectors who need vacuum+gas application. (Olives, meat and meat products, dairy products, snacks and meals, bakery products, dried fruits and vegetables, etc.)

Advantages:

– Vacuumed and gaseous tray sealing feature
– Automatic product lifting system, product can be easily lifted from inside of the mold
– Touch screen
– Error-free mobility with drawers having linear sliding system
– Film tensioning apparatus
– Minimum loss of film with the film tensiling and winding system
– Perfect security system
– Soft vacuuming opportunity with soft air option
– Mold cover security sensor
– Film system safety sensors
– Gas system control sensor
– Air pressure sensor
– Aluminum parts are of imported 5083-aluminum (eloxal coated)
– Mold system is of imported 7075-aluminum (eloxal coated)
– Values ​​are monitored numerically and graphically
– Vacuum pump (standard 40 m3)
– Precise measurement with digital vacuum sensor
– Air control with air pressure sensor
– Possibility of only welding and cutting by one-touch
– Ideal for using printed film (photocell optional)
– Stainless steel body of quality 304
– Stainless steel blade system
– Teflon-coated mold system
– Free gas analysis during installation
– Mold can be changed quickly and easily
– Completely cuts the film around the plate and does not need extra labor
– Easy to clean and hygienic equipment
– Time saving with pneumatic and quick mold system
– Energy saving with automatic temperature control system
– Very easy to transport by stainless steel wheels.
– 1 years warranty
– CE certificate.
– Can be easily converted to the Automatic drower system

Specifications:

Installed power: 400V 50 Hz, 16 A
Vacuum pump: 40 m3
Energy consumption: 2.4 Kw
Air pressure: max. 6 bar
Air consumption: 3.6lt cycle
Capacity/min :3 cycle ( without vacuum 8-10 action)
Packaged dimensions: 1180x950x1070mm
Max. mold dimensions: 370x300mm
Weight net/packaged: 180kg/200kg
Max. depth of plate: 120 mm
Max. film width: 420 mm
Min. film thickness: 40 mic
Max. film weight: 12-14 kg
VTK 400 SMART Yarı Otomatik MAP & Food Skin Pack Tabak Kapatma Makineleri

VTK 400 Smart, endüstriyel amaçlı bir gazlı vakumlu Tabak Kapatma Makinesidir. Tamamen paslanmaz çelikten imal edilmiştir. Kalıp ve alüminyum aksam eloksal kaplamadır. Dokunmatik operator paneli ile ekrandaki değerler grafik ve sayısal olarak takip edilebilir ve her türlü işlem kolaylıkla yapılabilir.

Makinede; pnömatik sistem , gaz basıncı ve vakum değerleri sensörler ile kontrol edilir ve ekrandan uyarı mesajı ile operatörü yönlendirir. Makinede baskılı film baskısız film seçeneği ve fotosel sistemi mevcuttur (opsiyonel). Kolay değişebilen kalıp sistemi ile sınırsız kalıp seçeneği ve yüksek performans sağlar. Makinede güvenlik CE standartlarına göre sağlanmıştır. Film takarken ve kalıp değiştirirken güvenlik sensörleri sayesinde otomatik olarak "stop" konumuna geçer.

Kullanım Alanları

Vakum + gaz uygulaması ihtiyacı olan ya da skin pack tercih eden sektörler için ideal bir modeldir. (Zeytin, et ve et ürünleri, deniz ürünleri, süt ürünleri, meze ve yemek, unlu mamüller, kuru meyve, sebze vb..)

Avantajları:

-Vakumlu ve gazlı (MAP) tabak kapama yapabilir. Opsiyonel Skin pack ambalaj özelliği *
-Otomatik ürün kaldırma sistemi kalıp içinden ürünler kolaylıkla alınabilir
-Touch screen ekran (7 inc.)
-Hareketli operatör paneli ile kolay kullanım sağlar
-Lineer kızak sistemli çekmece ile hatasız hareket imkanı
-Film gerdirme aparatı
-Film çekme –sarma sistemi ile minimum film kaybı
-Mükemmel güvenlik sistemi
-Soft air seçeneği ile yumuşak vakum yapma imkanı
-Kalıp kapağı güvenlik sensörü
-Film sistemi güvenlik sensörü
-Gaz sistemi kontrol sensörü
-Hava basınç sensörü
-Alüminyum aksam 5083 ithal alüminyum (eloksal kaplama)
-Kalıp sistemi 7075 ithal alüminyum (eloksal kaplama)
-Değerleri sayısal ve grafik olarak izleyebilme imkanı
-Vakum pompası (standart 40 m3) DVP
-Dijital vakum sensörü ile hassas ölçüm
-Hava basınç sensörü ile hava kontrolü
-Tek tuşla yalnızca kaynak ve kesim yapabilme imkanı
-Baskılı film kullanmak için ideal (Fotosel opsiyonel)
-304 Kalite paslanmaz gövde
-Paslanmaz çelikten imal edilmiş bıçak sistemi
-Teflon kaplama kalıp sistemi
-Kurulumda ücretsiz gaz analizi
-Kısa sürede ve kolaylıkla kalıp değiştirilebilir.
-Tabak etrafındaki filmi tam olarak keser.zaman ve işçilikten tasarruf sağlar
-Kolay temizlik ve hijyenik ekipman
-Pnömatik ve hızlı kalıp sistemi ile zamandan tasarruf sağlar
-Otomatik ısı kontrol sistemi ile enerji optimizasyonu sağlar
-Paslanmaz tekerlekleri sayesinde taşıması çok kolaydır
-1 Yıl garantili
-CE ve GOST belgesine haiz

Teknik Özellikler:

Kurulu güç: 400v 50 Hz 20 A
Vakum pompası.: 40 m3
Enerji sarfiyatı: 2.6 Kw
Hava basıncı : Max. 6 bar
Hava sarfiyatı : 3.6 lt cycle
Kapasite / dk :Vakum-gaz 3 işlem – yalnız kapama 8 işlem
Max. kalıp ebatları: 400x310mm
Ağırlık net/ ambalajlı: 160kg/200kg
Max. tabak derinliği: 120 mm
Max. film genişliği:420 mm
Min . film kalınlığı: 40 mic
Max. film ağırlığı: 12-15 kg

* Skin pack opsiyonu için fiyat alınız.