The ad Liebherr R 900 - Everything works, 1 owner, Railways, opportunity tracked excavator has been sold and is not included in the search!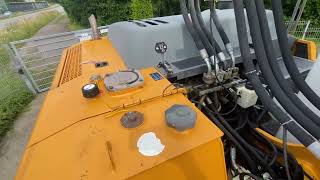 1/38
Model
R 900 - Everything works, 1 owner, Railways, opportunity
Location
Poland
ŁAZISKA GÓRNE
Purchase on credit is possible
Description
Overall dimensions
length - 8.15 m, width - 3.08 m
For sale a powerful crawler excavator purchased from a company that worked on the railway. Bucket for pulling logs under the tracks. We have another 2 years older one, almost identical, fully operational, still in the Czech Republic (Cheaper by about 5,000 euros - you can buy two with this operation, a big discount!)

The excavator has not been "picked up" for sale by us yet, therefore a bargain price to be picked up in this condition.

The excavator is on site and is ready for short tests or inspection.
We offer transport within Poland at this price.

ATTENTION! Only now the buy now price until the excavator is pimped, when we do it the price will increase drastically!

Possibility to install another snap-in.

____________________

Libra
18.9 t
Transport length
8.15 m
Transport width
3.08m
Bucket capacity
0.5 m³
The width of the chains
600mm
Boom
MB
Digging depth
6.3m
Breaking strength
98 kN
————-
Inspection report:
The equipment was in operation until our purchase. The equipment is fully operational and ready for further work, the possibility of refreshing visually by us.
Operational abrasions no big deal.
New batteries
————-
Motor: Liebherr D934, 4 cylinder, 129 hp.
Vin of the machine for 2013: WLHZ1076CZK067028
2011 Machine Vin: WLHZ1076EZK058876
————
The given price is in Net value and is valid for Export and for companies.
A significant discount is possible for an individual customer -
Feel free to contact us directly by phone to get your best price :)
—
After price negotiations, we are able to record a video in detail or perform a computer test or a varnish meter to safely buy equipment at a distance.
—
Of course, we encourage you to come for inspection, but if it is not possible, this form of purchase will be available, which guarantees a safe form of purchase.

—————-
THIS ANNOUNCEMENT IS FOR INFORMATION ONLY AND DOES NOT CONSTITUTE AN OFFER PURSUANT TO ART. 66, § 1 of the CIVIL CODE. OUR COMPANY IS NOT RESPONSIBLE FOR MINOR ERRORS AND INCOMPLETE INFORMATION CONTAINED IN THE ADVERTISEMENT OR OUT OF DATE OF THE ADVERTISEMENT.
للبيع حفارة مجنزرة قوية تم شراؤها من شركة عملت في مجال السكك الحديدية. دلو لسحب جذوع الأشجار تحت المسارات. لدينا سنة أخرى أقدم ، متطابقة تقريبًا ، تعمل بكامل طاقتها ، لا تزال في جمهورية التشيك (أرخص بحوالي 5000 يورو - يمكنك شراء اثنين بهذه العملية ، خصم كبير!)

لم يتم "التقاط" الحفارة للبيع من قبلنا حتى الآن ، وبالتالي يجب الحصول على سعر منافس في هذه الحالة.

الحفارة في الموقع وجاهزة للاختبارات القصيرة أو الفحص.
نحن نقدم النقل داخل بولندا بهذا السعر.

انتباه! الآن فقط سعر الشراء الآن حتى يتم تشغيل الحفار ، عندما نفعل ذلك ، سيزداد السعر بشكل كبير!

إمكانية تثبيت أداة إضافية أخرى.

____________________

الميزان
18.9 طن
طول النقل
8.15 م
عرض النقل
3.08 م
قدرة دلو
0.5 متر مكعب
عرض السلاسل
600 ملم
فقاعة
ميغا بايت
عمق الحفر
6.3 م
قوة الانهيار
98 كيلو نيوتن
————-
تقرير التفتيش:
كانت المعدات قيد التشغيل حتى شرائنا. المعدات تعمل بكامل طاقتها وجاهزة لمزيد من العمل ، وإمكانية التحديث بصريًا من قبلنا.
السحجات العملية ليست مشكلة كبيرة.
بطاريات جديدة
————-
المحرك: Liebherr D934 ، 4 سلندر ، 129 حصان.
فين الجهاز لعام 2013: WLHZ1076CZK067028
2011 آلة Vin: WLHZ1076EZK058876
————
السعر المحدد بصافي القيمة وهو صالح للتصدير وللشركات.
خصم كبير ممكن لعميل فردي -
لا تتردد في الاتصال بنا مباشرة عبر الهاتف للحصول على أفضل سعر لك :)
-
بعد مفاوضات الأسعار ، يمكننا تسجيل مقطع فيديو بالتفصيل أو إجراء اختبار كمبيوتر أو مقياس الورنيش لشراء المعدات بأمان عن بعد.
-
بالطبع ، نشجعك بشدة على الحضور للفحص ، ولكن إذا لم يكن ذلك ممكنًا ، فسيكون هذا النوع من الشراء متاحًا ، مما يضمن شكلاً آمنًا للشراء.

—————-
هذا الإعلان للإعلام فقط ولا يشكل عرضًا متعلقًا بالفن. 66 ، الفقرة 1 من القانون المدني. شركتنا ليست مسؤولة عن الأخطاء البسيطة والمعلومات غير الكاملة الواردة في الإعلان أو خارج تاريخ الإعلان.
Zum Verkauf steht ein leistungsstarker Raupenbagger, der von einer Firma gekauft wurde, die im Eisenbahnbereich tätig war. Schaufel zum Ziehen von Baumstämmen unter den Gleisen. Wir haben ein weiteres, 2 Jahre älteres, fast identisches, voll funktionsfähiges, noch in der Tschechischen Republik (ca. 5.000 Euro günstiger – Sie können mit dieser Operation zwei kaufen, ein großer Rabatt!)

Der Bagger wurde von uns noch nicht zum Verkauf "abgeholt", daher ist es in diesem Zustand ein Schnäppchenpreis, ihn abzuholen.

Der Bagger ist vor Ort und steht für kurze Tests oder Inspektionen bereit.
Zu diesem Preis bieten wir den Transport innerhalb Polens an.

AUFMERKSAMKEIT! Nur jetzt der Kaufpreis, bis der Bagger gepimpt ist, wenn wir das machen, wird der Preis drastisch steigen!

Möglichkeit zur Installation eines weiteren Snap-Ins.

____________________

Waage
18,9 t
Transportlänge
8,15 m
Transportbreite
3,08 m
Eimerkapazität
0,5 m³
Die Breite der Ketten
600mm
Boom
MB
Grabtiefe
6,3 m
Bruchfestigkeit
98 kN
————-
Inspektionsbericht:
Das Gerät war bis zu unserem Kauf in Betrieb. Die Ausrüstung ist voll funktionsfähig und bereit für weitere Arbeiten, die Möglichkeit einer optischen Auffrischung durch uns.
Betriebsbedingte Abschürfungen sind keine große Sache.
Neue Batterien
————-
Motor: Liebherr D934, 4 Zylinder, 129 PS.
Vin der Maschine für 2013: WLHZ1076CZK067028
2011 Maschinenvin: WLHZ1076EZK058876
————
Der Preis versteht sich als Nettowert und gilt für den Export und für Unternehmen.
Für einen einzelnen Kunden ist ein erheblicher Rabatt möglich -
Kontaktieren Sie uns gerne direkt telefonisch, um Ihren besten Preis zu erhalten :)
—
Nach Preisverhandlungen sind wir in der Lage, ein Video aufzunehmen oder einen Computertest oder ein Lackmessgerät durchzuführen, um für einen bestimmten Kunden sicher Geräte aus der Ferne zu kaufen.
—
Selbstverständlich empfehlen wir Ihnen, zur Besichtigung zu kommen, aber wenn dies nicht möglich ist, steht Ihnen diese Kaufform zur Verfügung, die eine sichere Kaufform garantiert.

—————-
DIESE MITTEILUNG DIENT NUR INFORMATIONEN UND STELLT KEIN ANGEBOT IM Sinne von ART. 66, § 1 des ZIVILGESETZES. UNSER UNTERNEHMEN ÜBERNIMMT KEINE HAFTUNG FÜR KLEINERE FEHLER UND UNVOLLSTÄNDIGE IN DER WERBUNG ENTHALTENE INFORMATIONEN ODER FÜR VERALTETE INFORMATIONEN DER WERBUNG.
Πωλείται ισχυρός ερπυστριοφόρος εκσκαφέας που αγοράστηκε από εταιρεία που εργαζόταν στον σιδηρόδρομο. Κάδος για το τράβηγμα κορμών κάτω από τις ράγες. Έχουμε άλλο ένα 2 χρόνια παλαιότερο, σχεδόν πανομοιότυπο, πλήρως λειτουργικό, ακόμα στην Τσεχία (Φθηνότερο κατά περίπου 5.000 ευρώ - μπορείτε να αγοράσετε δύο με αυτή τη λειτουργία, μεγάλη έκπτωση!)

Ο εκσκαφέας δεν έχει ακόμη "παραληφθεί" από εμάς προς πώληση, επομένως μια τιμή ευκαιρίας να παραληφθεί σε αυτή την κατάσταση.

Ο εκσκαφέας βρίσκεται επί τόπου και είναι έτοιμος για σύντομες δοκιμές ή επιθεώρηση.
Προσφέρουμε μεταφορά εντός Πολωνίας σε αυτήν την τιμή.

ΠΡΟΣΟΧΗ! Μόνο που τώρα η τιμή αγοράς τώρα μέχρι να μαστροπευτεί ο εκσκαφέας, όταν το κάνουμε η τιμή θα αυξηθεί δραστικά!

Δυνατότητα εγκατάστασης άλλου snap-in.

____________________

ΖΥΓΟΣ
18,9 τ
Μήκος μεταφοράς
8,15 μ
Πλάτος μεταφοράς
3,08μ
Χωρητικότητα κάδου
0,5 m³
Το πλάτος των αλυσίδων
600 χλστ
Κεραία
MB
Βάθος εκσκαφής
6,3μ
Δύναμη θραύσης
98 kN
—————
Έκθεση επιθεώρησης:
Ο εξοπλισμός ήταν σε λειτουργία μέχρι την αγορά μας. Ο εξοπλισμός είναι πλήρως λειτουργικός και έτοιμος για περαιτέρω εργασίες, δυνατότητα οπτικής ανανέωσης από εμάς.
Λειτουργικές εκδορές δεν είναι μεγάλη υπόθεση.
Νέες μπαταρίες
—————
Κινητήρας: Liebherr D934, 4κύλινδρος, 129 ίπποι.
Vin της μηχανής για το 2013: WLHZ1076CZK067028
2011 Machine Vin: WLHZ1076EZK058876
————
Η τιμή είναι σε Καθαρή αξία και ισχύει για εξαγωγές και για εταιρείες.
Μια σημαντική έκπτωση είναι δυνατή για έναν μεμονωμένο πελάτη -
Μη διστάσετε να επικοινωνήσετε μαζί μας απευθείας τηλεφωνικά για να λάβετε την καλύτερη τιμή σας :)
—
Μετά από διαπραγματεύσεις τιμών, είμαστε σε θέση να καταγράψουμε ένα βίντεο ή να εκτελέσουμε μια δοκιμή υπολογιστή ή έναν μετρητή βερνικιού για να αγοράσουμε με ασφάλεια εξοπλισμό σε απόσταση για έναν αποφασισμένο πελάτη.
—
Φυσικά, σας ενθαρρύνουμε να έρθετε για έλεγχο, αλλά εάν δεν είναι δυνατό, αυτή η μορφή αγοράς θα είναι διαθέσιμη, η οποία εγγυάται μια ασφαλή μορφή αγοράς.

——————
Η ΠΑΡΟΥΣΑ ΑΝΑΚΟΙΝΩΣΗ ΕΙΝΑΙ ΜΟΝΟ ΓΙΑ ΕΝΗΜΕΡΩΣΗ ΚΑΙ ΔΕΝ ΑΠΟΤΕΛΕΙ ΠΡΟΣΦΟΡΑ ΣΥΜΦΩΝΑ ΜΕ ΤΟ ΑΡΘΡΟ. 66, § 1 ΑΣΤΙΚΟΣ ΚΩΔ. Η ΕΤΑΙΡΙΑ ΜΑΣ ΔΕΝ ΦΕΡΕΙ ΕΥΘΥΝΗ ΓΙΑ ΜΙΚΡΟΥΣ ΛΑΘΗ ΚΑΙ ΕΛΛΗΝΕΣ ΠΛΗΡΟΦΟΡΙΕΣ ΠΟΥ ΠΕΡΙΕΧΟΝΤΑΙ ΣΤΗ ΔΙΑΦΗΜΙΣΗ Ή ΕΚΑΝΩ ΤΗΣ ΔΙΑΦΗΜΙΣΗΣ.
Se vende una potente excavadora sobre orugas comprada a una empresa que trabajaba en el ferrocarril. Cubo para tirar troncos debajo de las vías. Tenemos otro 2 años más antiguo, casi idéntico, en pleno funcionamiento, todavía en la República Checa (más barato por unos 5.000 euros; puede comprar dos con esta operación, ¡un gran descuento!)

La excavadora aún no ha sido "recogida" para la venta por nosotros, por lo tanto, un precio de ganga para ser recogida en estas condiciones.

La excavadora está en el sitio y está lista para pruebas breves o inspección.
Ofrecemos transporte dentro de Polonia a este precio.

¡ATENCIÓN! ¡Solo que ahora el precio de compra ahora hasta que la excavadora esté proxeneta, cuando lo hagamos, el precio aumentará drásticamente!

Posibilidad de instalar otro complemento.

____________________

Libra
18,9 toneladas
Longitud de transporte
8,15 metros
Ancho de transporte
3,08 m
Capacidad de la cuchara
0,5 m³
El ancho de las cadenas.
600 mm
Auge
MEGABYTE
Profundidad de excavación
6,3 m
Fuerza de ruptura
98kN
————-
Reporte de inspección:
El equipo estaba en funcionamiento hasta nuestra compra. El equipo está en pleno funcionamiento y listo para seguir trabajando, la posibilidad de refrescarse visualmente por nosotros.
Las abrasiones operativas no son gran cosa.
Baterías nuevas
————-
Motor: Liebherr D934, 4 cilindros, 129 cv.
Vin de la máquina para 2013: WLHZ1076CZK067028
Vinculación de la máquina 2011: WLHZ1076EZK058876
————
El precio indicado es en Valor Neto y es válido para Exportación y para empresas.
Un descuento significativo es posible para un cliente individual -
No dude en contactarnos directamente por teléfono para obtener su mejor precio :)
—
Después de las negociaciones de precios, podemos grabar un video en detalle o realizar una prueba de computadora o un medidor de barniz para comprar equipos a distancia de manera segura.
—
Por supuesto, le recomendamos encarecidamente que venga a la inspección, pero si no es posible, estará disponible esta forma de compra, que garantiza una forma de compra segura.

—————-
ESTE ANUNCIO ES ÚNICAMENTE INFORMATIVO Y NO CONSTITUYE UNA OFERTA CONFORME AL ART. 66, § 1 del CÓDIGO CIVIL. NUESTRA EMPRESA NO ES RESPONSABLE POR ERRORES MENORES E INFORMACION INCOMPLETA CONTENIDA EN EL ANUNCIO O FUERA DE FECHA DEL ANUNCIO.
A vendre une pelle sur chenilles puissante achetée à une entreprise qui travaillait sur le chemin de fer. Godet pour tirer les grumes sous les chenilles. Nous en avons un autre de 2 ans de plus, presque identique, pleinement opérationnel, toujours en République tchèque (Moins cher d'environ 5 000 euros - vous pouvez en acheter deux avec cette opération, une grosse remise !)

La pelle n'a pas encore été "récupérée" pour la vente par nous, donc un prix avantageux à récupérer dans cet état.

La pelle est sur place et est prête pour de courts tests ou une inspection.
Nous offrons le transport en Pologne à ce prix.

ATTENTION! Ce n'est que maintenant que le prix d'achat immédiat jusqu'à ce que la pelle soit pimpée, lorsque nous le ferons, le prix augmentera considérablement !

Possibilité d'installer un autre composant logiciel enfichable.

____________________

Balance
18,9 t
Longueur de transport
8,15 m
Largeur de transport
3.08m
Capacité du seau
0,5 m³
La largeur des chaînes
600mm
Boom
Mo
Profondeur de creusement
6.3m
Résistance à la rupture
98 kN
————-
Rapport d'inspection:
L'équipement fonctionnait jusqu'à notre achat. L'équipement est pleinement opérationnel et prêt pour d'autres travaux, possibilité de rafraichissement visuel par nos soins.
Les abrasions opérationnelles ne sont pas un problème.
Piles neuves
————-
Moteur : Liebherr D934, 4 cylindres, 129 ch.
Vin de la machine pour 2013 : WLHZ1076CZK067028
Machine Vin 2011 : WLHZ1076EZK058876
————
Le prix indiqué est en valeur nette et est valable pour l'exportation et pour les entreprises.
Une remise importante est possible pour un client individuel -
N'hésitez pas à nous contacter directement par téléphone pour obtenir votre meilleur tarif :)
—
Après négociation des prix, nous sommes en mesure d'enregistrer une vidéo en détail ou d'effectuer un test informatique ou un testeur de vernis pour acheter du matériel à distance en toute sécurité.
—
Bien sûr, nous vous encourageons à venir pour une inspection, mais si ce n'est pas possible, cette forme d'achat sera disponible, ce qui garantit une forme d'achat sûre.

—————-
CETTE ANNONCE EST À TITRE D'INFORMATION SEULEMENT ET NE CONSTITUE PAS UNE OFFRE CONFORMÉMENT À L'ART. 66, § 1 du CODE CIVIL. NOTRE SOCIÉTÉ N'EST PAS RESPONSABLE DES ERREURS MINEURES ET DES INFORMATIONS INCOMPLÈTES CONTENUES DANS L'ANNONCE OU PÉRIMÈTRES DE L'ANNONCE.
Vendo escavatore cingolato della migliore e collaudata serie 900.
E' dotato di lecca-lecca per la pulizia dei nastri trasportatori.
La benna può essere utilizzata anche per trascinare tronchi sotto i binari, ecc.
Possibilità di installare un altro snap-in.
————————-
Ne abbiamo altri 2 anni più vecchi, identici, perfettamente operativi ancora in Repubblica Ceca (più economici di circa 5 mila euro - la possibilità di acquistarne due con questa operazione è un grosso sconto!)
——————-
L'escavatore non è stato "scelto" da noi per la vendita, quindi un prezzo d'occasione da ritirare in queste condizioni.
L'escavatore è sul posto ed è pronto per brevi test o ispezioni.
Offriamo SOLO il trasporto all'interno della Polonia a questo prezzo.
____________________
Libra
18,9 t
Lunghezza di trasporto
8,15 mt
Larghezza di trasporto
3,08 m
Capacità della benna
0,5 m³
La larghezza delle catene
600mm
Boom
MB
Profondità di scavo
6,3 m
Forza di rottura
98 kN
————-
Rapporto di ispezione:
L'attrezzatura era in funzione fino al nostro acquisto. L'attrezzatura è completamente operativa e pronta per ulteriori lavori, la possibilità di rinfrescare visivamente da noi.
Le abrasioni operative non sono un grosso problema.
Due finestre danneggiate: verranno sostituite da noi al prezzo.
Batterie e olio idraulico nuovi.
————-
Motore: Liebherr D934, 4 cilindri, 129 cv.
Vin della macchina per il 2013: WLHZ1076CZK067028
Vincolo macchina 2011: WLHZ1076EZK058876
————
Il prezzo è in valore netto ed è valido per l'esportazione e per le aziende.
Uno sconto significativo è possibile per un singolo cliente -
Non esitate a contattarci direttamente per telefono per ottenere il miglior prezzo :)
—
Dopo aver negoziato il prezzo, siamo in grado di registrare un video o eseguire un test al computer o un misuratore di vernice per acquistare in sicurezza attrezzature a distanza per un determinato cliente.
—
Naturalmente, ti invitiamo a venire per l'ispezione, ma se non è possibile, sarà disponibile questa forma di acquisto, che garantisce una forma di acquisto sicura.
—————-
IL PRESENTE ANNUNCIO È SOLO INFORMATIVO E NON COSTITUISCE OFFERTA AI SENSI DELL'ART. 66, § 1 del CODICE CIVILE. LA NOSTRA AZIENDA NON È RESPONSABILE DI ERRORI MINORI E INFORMAZIONI INCOMPLETE CONTENUTE NELL'ANNUNCIO O NON AGGIORNATE DELL'ANNUNCIO.
Na sprzedaż koparka gąsienicowa najlepszej i sprawdzonej serii 900.
Wyposażona jest w lizak do czyszczenia taśmociągów .
Łyżka może także służyć do wyciągania bali pod torami ect.
Możliwość zainstalowania innej przystawki.
————————-
Mamy jeszcze 2 lata starszą ,identyczną ,w pełni sprawną stoi jeszcze w Czechach (Tańsza o circa 5 tysięcy euro - możliwość zakupu dwóch przy tej operacji spory Rabat!)
——————-
Koparka niebyła przez nas "picowana" pod sprzedaż, dlatego tez OKAZJA cenowa do odbioru w tym w stanie.
Koparka stoi u nas na miejscu i jest gotowana na krótkie testy bądź oględziny.
Oferujemy TYLKO w tej Cenie transport na terenie Polski.
____________________
Waga
18.9 t
Długość transportowa
8.15 m
Szerokość transportowa
3.08 m
Pojemność czerpaka
0,5 m³
Szerokość łańcuchów
600 mm
Wysięgnik
MB
Głębokość kopania
6,3 m
Siła zrywająca
98 kN
————-
Raport z oględzin :
Sprzęt do chwili naszego zakupu był eksploatowany. Sprzęt jest w pełni sprawny i gotowy do dalszej pracy, możliwość odświeżenia przez nas wizualnie.
Otarcia eksploatacyjne nic wielkiego.
Uszkodzone dwie szyby - będą przez nas w cenie wymieniane .
Nowe akumulatory i olej hydrauliczny .
————-
Motor : Liebherr D934 , 4 cylindrowy, o mocy 129 KM.
Vin maszyny za 2013r : WLHZ1076CZK067028
Vin maszyny z 2011 r : WLHZ1076EZK058876
————
Podana cena jest w wartości Netto i obowiązuje na Export oraz dla firm.
Dla klienta indywidualnego możliwy spory rabat -
Zapraszamy bezpośrednio do kontaktu telefonicznego , tak aby uzyskać swoją najlepszą cenę :)
—
Po negocjacjach cenowych jesteśmy w stanie szczegółowo , dla zdecydowanego klienta nagrać film czy wykonać test komputerowy lub miernikiem lakieru ,aby spokojnie kupić sprzęt na odległość .
—
Oczywiście jak najbardziej zachęcamy do przyjazdu na oględziny ,lecz przy braku możliwości taka forma zakupu będzie dostępna co gwarantuje bezpieczną formę zakupu.
—————-
NINIEJSZE OGŁOSZENIE MA CHARAKTER JEDYNIE INFORMACYJNY I NIE STANOWI OFERTY W MYŚL ART. 66, § 1. KODEKSU CYWILNEGO. NASZA FIRMA NIE PONOSI ODPOWIEDZIALNOŚCI ZA DROBNE BŁĘDY ORAZ ZAWARTE W OGŁOSZENIU NIEKOMPLETNE INFORMACJE LUB NIEAKTUALNOŚĆ OGŁOSZENIA.
____________________
De vânzare un excavator pe șenile puternic achiziționat de la o companie care lucra la calea ferată. Găleată pentru tragerea bustenilor sub șine. Mai avem unul cu 2 ani mai vechi, aproape identic, pe deplin operațional, tot în Cehia (Mai ieftin cu vreo 5.000 de euro - puteți cumpăra doi cu această operațiune, reducere mare!)

Excavatorul nu a fost încă "ridicat" spre vânzare de către noi, deci un preț avantajos trebuie ridicat în această stare.

Excavatorul se află pe șantier și este pregătit pentru scurte teste sau inspecții.
Oferim transport in Polonia la acest pret.

ATENŢIE! Abia acum prețul cumpără acum până când excavatorul este proxenetat, când o facem prețul va crește drastic!

Posibilitatea de a instala un alt snap-in.

____________________

Balanta
18,9 t
Lungimea transportului
8,15 m
Lățimea de transport
3,08 m
Capacitate găleată
0,5 m³
Lățimea lanțurilor
600 mm
Bum
MB
Adâncimea de săpare
6,3 m
Forța de rupere
98 kN
————-
Raport de inspectie:
Echipamentul a fost în funcțiune până la achiziționarea noastră. Echipamentul este pe deplin operațional și gata pentru lucrări ulterioare, posibilitatea de reîmprospătare vizuală de către noi.
abraziunile operaționale nu e mare lucru.
Baterii noi
————-
Motor: Liebherr D934, 4 cilindri, 129 CP.
Vin al mașinii pentru 2013: WLHZ1076CZK067028
2011 Machine Vin: WLHZ1076EZK058876
————
Pretul dat este in valoare neta si este valabil pentru Export si pentru companii.
O reducere semnificativă este posibilă pentru un client individual -
Nu ezitați să ne contactați direct la telefon pentru a obține cel mai bun preț :)
—
După negocieri de preț, putem să înregistrăm un videoclip sau să efectuăm un test pe computer sau un contor de lac pentru a cumpăra în siguranță echipamente la distanță pentru un client determinat.
—
Desigur, vă încurajăm să veniți la inspecție, dar dacă nu este posibil, va fi disponibilă această formă de achiziție, care garantează o formă sigură de achiziție.

—————-
ACEST ANUNȚ ESTE NUMAI INFORMATIV ȘI NU CONSTITUIE O OFERTĂ ÎN CONFORMITATE CU ART. 66, § 1 COD CIVIL. COMPANIA NOASTRĂ NU ESTE RESPONSABILĂ PENTRU ERORI MINORE ȘI INFORMAȚII INCOMPLETE CUȚINUTE ÎN ANUNȚ SAU ÎN DATE A Anunțului.
Продается мощный гусеничный экскаватор, купленный у фирмы работавшей на железной дороге. Ковш для протаскивания бревен под гусеницы. У нас есть еще один на 2 года старше, почти такой же, полностью рабочий, еще в Чехии (Дешевле примерно на 5000 евро - можно купить два с этой операцией, большая скидка!)

Экскаватор еще не "подбирался" нами для продажи, поэтому выгодная цена забрать в таком состоянии.

Экскаватор находится на месте и готов к коротким испытаниям или осмотру.
Мы предлагаем транспорт в пределах Польши по этой цене.

ВНИМАНИЕ! Только теперь цена купить сейчас, пока экскаватор не прокачают, когда мы это сделаем, цена резко возрастет!

Возможность установить другую оснастку.

____________________

Весы
18,9 т
Транспортная длина
8,15 м
Транспортная ширина
3,08 м
Емкость ковша
0,5 м³
Ширина цепей
600мм
Бум
МБ
Глубина копания
6,3 м
Прочность на разрыв
98 кН
————-
Отчет о проверке:
Оборудование было в эксплуатации до нашей покупки. Оборудование полностью исправно и готово к дальнейшей работе, возможность визуального освежения нами.
Операционные потертости не страшны.
Новые батареи
————-
Мотор: Liebherr D934, 4 цилиндра, 129 л.с.
Вин машины на 2013 год: WLHZ1076CZK067028
Вин машины 2011 года: WLHZ1076EZK058876
————
Цена указана в нетто-стоимости и действительна для экспорта и для компаний.
Индивидуальному покупателю возможна существенная скидка -
Не стесняйтесь обращаться к нам напрямую по телефону, чтобы получить лучшую цену :)
—
После переговоров о цене мы можем подробно записать видео или провести компьютерный тест или лакомер, чтобы безопасно купить оборудование на расстоянии.
—
Конечно, мы настоятельно рекомендуем вам приехать на осмотр, но если это невозможно, будет доступна такая форма покупки, которая гарантирует безопасную форму покупки.

—————-
ДАННОЕ ОБЪЯВЛЕНИЕ ПРЕДНАЗНАЧЕНО ТОЛЬКО ДЛЯ ИНФОРМАЦИИ И НЕ ЯВЛЯЕТСЯ ПРЕДЛОЖЕНИЕМ В СООТВЕТСТВИИ СО СТАТЬЕЙ. 66, § 1 Гражданского кодекса. НАША КОМПАНИЯ НЕ НЕСЕТ ОТВЕТСТВЕННОСТИ ЗА НЕЗНАЧИТЕЛЬНЫЕ ОШИБКИ И НЕПОЛНУЮ ИНФОРМАЦИЮ, СОДЕРЖАЩУЮСЯ В ОБЪЯВЛЕНИИ, ИЛИ УСТАРЕВШУЮ.