The ad New Compack Serisi Manuel Shrink Ambalaj Makineleri shrink wrapper has been sold and is not included in the search!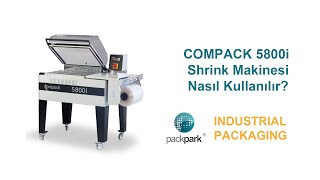 1/2
Model
Serisi Manuel Shrink Ambalaj Makineleri
Location
Turkey
İSTANBUL
Placed on
more than 1 month
COMPACK Series One Step Shrink Wrap Machines

Features:

– One Step Shrink System. Shrinks and seals simultaneously, only one operator required.
– Packaging solutions for small or medium volume of production.
– Digital panel in English and in other languages.
– Shrink temperature fine-tuning in digital setting option.
– Solid state relays for longer life of electrical components
– Height adjustments for different heights of the products and adjustable production loading tray.
– Practical film roll placement and easy to slide film housing device.
– Ceramic blade housing, film perforator for optimal product appearance, standard legs, with casters for easy mobility.
– Magnetic holder (MG) for hood with timer control.
– ISO 9001 quality standard with the relevant norm's confirmations.
– CE marking, guarantee for spare part stock and after sales support and one year warranty on non-wearable parts

What is "intelligent sealing" system? (patented system).

Blade temperature is normally varied and very often overheated due to the shorter or longer cycles with the fixed powered energy to the blade. Thus the mechanical contact points on the seal bar become weak. Due to the damages on the sealing system, sealing and packaging quality drops dramatically.

– Target temperature can be fixed. Depending on cycle time lengths, necessary power calculation is made automatically,
– Blade temperature can be fixed even in the first start-up cycle.
– With intelligent sealing system; the sealing power is fixed even if the cycle periods are varied
– Always the blade is powered as much as needed, potential operator mistakes will be avoided,
– Many times longer lifetime for rubber pad, teflon and ceramic,
– Smoke-free operation with blade temperature consistency, for operator health and environment.
– Improves packaging quality with better sealing and shrink performance
– Cosmetic quality of the sealing line will be perfect without burned black blade residues.
COMPACK Serisi Manuel Shrink Ambalaj Makineleri

Özellikleri:
– Küçük ve orta ölçekli işletmeler için pratik çözüm.
– Tek işlemde shrink sistemi, aynı anda hem kesme hem shrink işlemi.
– Farklı ürün yüksekliklerine göre ayar imkanı.
– Pratik film yerleştirme ve ayarlı taşıma mekanizması.
– Ayarlı paket besleme tablası.
– Seramik alaşımlı özel bıçak yatağı.
– Hava tahliyesi için filme delik delen aparatlar, 2 adet.
– Shrink için ısı ayarı (ayrıca ilave emniyet ısı kontrol sistemi).
– Tekerlekli pratik taşıma ayakları.
– Tek operatörlü sistem.
– Opsiyonel Manyetik çene kapalı tutma mekanizması ve zamanlayıcısı.
– ISO9001-2000 kalite belgeli üretim
– CE markası
– Yıpranabilen parçalar dışında 1 yıl garanti
– 5 yıl boyunca üretici firma garantisi altında yedek parça tedarik garantisi.