You may find interesting
Close
New GENERAL MAKİNA GNR800 Stone Crusher
price on request
New GENERAL MAKİNA MC110
price on request
New GENERAL MAKİNA 640 Mobile Crushing and Screening Plant
price on request
New GENERAL MAKİNA 944 Hard River Stone Crusher
price on request
New GENERAL MAKİNA GNR950 Portable Crushing and Screening Plant
price on request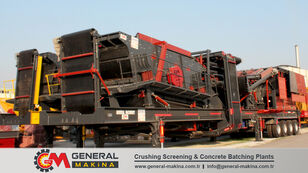 New GENERAL MAKİNA GNR03 Mobile Crusher
price on request
New GENERAL MAKİNA GNR 01 Mobile Crusher Plant mobile crushing plant
Model
GNR 01 Mobile Crusher Plant
Type
mobile crushing plant
Year of manufacture
01/2021
First registration
2020-01-01
Location
Turkey
Description
Overall dimensions
15000 m × 3800 m × 4500 m
Condition
Technical inspection valid till
2022-01-01
General 01 Mobile Crushing Plant, which is a closed-circuit crushing and screening facility; Suitable for quarries that feed concrete, asphalt, and road construction sites.

General 01 obtains a high capacity product by reducing the mine coming out of the quarry to a size of 0.50 mm in the first chamber and 0.25 mm in the second chamber with a maximum 1000 mm mine crusher chamber.
Thanks to the return conveyor belt system, the desired size can be obtained.

General capacity is 120 ~ 180 tons / hour.
General 01 Мобильная дробильная установка, представляющая собой замкнутый дробильно-сортировочный комплекс; Подходит для карьеров, питающих бетон, асфальт и дорожно-строительные площадки.

Генерал 01 получает продукт высокой производительности путем уменьшения шахты, выходящей из карьера, до размера 0,50 мм в первой камере и 0,25 мм во второй камере с максимальной камерой шахтной дробилки 1000 мм.
Благодаря системе возвратной конвейерной ленты можно получить желаемый размер.

Общая производительность составляет 120 ~ 180 тонн / час.
Kapalı devre kırma ve eleme tesisi olan General 01 Mobil Kırma Tesisi; Beton, asfalt ve yol şantiyelerini besleyen taş ocakları için uygundur.

General 01 ocaktan çıkan madeni birinci haznede 0,50 mm, ikinci haznede ise en fazla 1000 mm'lik maden kırıcı haznesi ile 0,25 mm boyutuna düşürerek yüksek kapasiteli ürün elde eder.
Dönüşlü konveyör bant sistemi sayesinde istenilen ebat elde edilebilir.

Genel kapasite 120 ~ 180 ton / saattir.
Important
This offer is for guidance only. Please request more precise information from the seller.
Safety tips
Seller's contacts
GENERAL MAKİNA
Seller with Machineryline for 1 year
The phone numbers have been checked
Halit Taşcan
Languages:
English, Turkish
Abdelkader TOUMERT
Languages:
English, French, Turkish, Arabic
Turkey, Aegean Region, 35875, Dere Sk., 12
Seller's local time: 08:40 (+03)
Selling machinery or vehicles?
You can do it with us!