You may find interesting
Close
New GENERAL MAKİNA GNR800 Stone Crusher
price on request
New GENERAL MAKİNA MC110
price on request
New GENERAL MAKİNA 944 Hard River Stone Crusher
price on request
New GENERAL MAKİNA GNR950 Portable Crushing and Screening Plant
price on request
New GENERAL MAKİNA GNR 01 Mobile Crusher Plant
price on request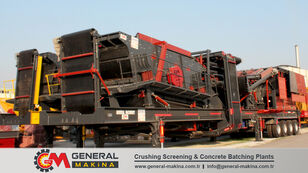 New GENERAL MAKİNA GNR03 Mobile Crusher
price on request
New GENERAL MAKİNA 640 Mobile Crushing and Screening Plant mobile crushing plant
Model
640 Mobile Crushing and Screening Plant
Type
mobile crushing plant
Year of manufacture
01/2021
First registration
2021-01-01
Location
Turkey
İzmir
Description
Overall dimensions
15000 m × 3000 m × 4500 m
Condition
Technical inspection valid till
2022-01-01
640 Mobile Crushing and Screening Plant for Sale

GENERAL 640 Closed circuit Crushing system, the whole system is collected on one platform and can be transported with 1 truck.
It is designed for operation within 30 minutes.
It is the most suitable for crushing hard and hard-to-break stone (basalt, granite) and mines (iron ore, chrome mine, quartz).
It is the ideal breaker unit to break the abrasive materials.

Vibrating Feeder and Reservoir
The feeder system is driven by 2 vibro motors. In this way, it is smooth and operation is provided with minimum maintenance.
The feeder reservoir is suitable for feeding with Excavator and Loader, and can be fed in the truck with additional chambers in continuous operation.
All wear points in the feeder and in the reservoir are protected by wearable armor.
The Feeder Tablet has a screening system. Thanks to the by-pass conveyor, this sifted ground material can be poured into the stock area.

Jaw Crusher
Dimension: 600x400 mm Primer type
Engine power: 30-37 Kw
Adjustable mechanism and jaw crusher can be easily adjusted.
- Main Conveyor Belt System 600 mm
Pallet type conveyor is rubber.
- Vibrating Screen System High Capacity Type
Dimension: 1300x4000mm
Engine Power 11 KW
Number Of Floors: 3 Floors

Secondary Impact Crusher (Hard Material Crusher)
1120 x 500 mm Special Type Impact Crusher System
Engine: 90 Kw - 110 Kw
Tonnage By Request
1000 x 750 mm Special Type Secondary Impact Crusher System
Engine: 45 Kw
Under-Screen Stock Conveyor 800 mm

Folding type
- Stock Conveyor 2 units 500 mm Folding type
- 2. Crusher Main Belt Conveyor 5000 mm Crisscross type
- Mobile Chassis System 3-Axis Special Constructed Chassis
- Hydraulic System

There are 4 hydraulic foot mechanisms in the system. After these feet are locked, they are strengthened with 6 Fixed feet.
There are also 2 lift pistons for opening and closing in the crusher. These 6 pistons are controlled by special control system.
Hydraulic Power System 125 Liter
Magnetic Conveyor Belt 750 mm (Optional)

- Panel Material is Schneider Electric or Telemecanique Mark.
- The board system has the Abb Soft Starter system and special control system.

- All of our products are European Union CE certified.
- Total weight: 41,000 Kg
- Transportation Measurements: Width 3000 mm x Length 15.000 mm x Height 4500 mm

For more information please contact us!
640 Мобильная Дробильно-сортировочная установка для продажи

ОБЩАЯ система дробления замкнутой цепи 640, вся система собрана на одной платформе и может быть транспортирована с 1 грузовиком.
Он рассчитан на работу в течение 30 минут.
Он наиболее подходит для дробления твердых и трудноразрушаемых камней (базальт, гранит) и рудников (железная руда, хромовый рудник, кварц).
Это идеальный блок прерывателя для того чтобы сломать абразивные материалы.

Вибрационный питатель и резервуар
Питательная система приводится в движение 2 вибродвигателями. Таким образом, он работает плавно и обеспечивает минимальное техническое обслуживание.
Питательный резервуар подходит для подачи с экскаватором и погрузчиком, а также может подаваться в грузовик с дополнительными камерами в непрерывном режиме.
Все точки износа в питателе и в резервуаре защищены носимой броней.
Питатель таблеток имеет систему просеивания. Благодаря байпасному конвейеру этот просеянный измельченный материал может быть высыпан на склад.

Щековая дробилка
Размер: 600x400 мм Тип грунтовки
Мощность двигателя: 30-37 кВт
Регулируемый механизм и щековая дробилка могут быть легко отрегулированы.
- Главная конвейерная ленточная система 600 мм
Конвейер паллетного типа-резиновый.
- Тип Большой Емкости Системы Вибрируя экрана
Размер: 1300x4000mm
Мощность двигателя 11 кВт
Количество Этажей: 3 Этажа

Вторичная Ударная Дробилка (Дробилка Твердых материалов)
1120 х 500 мм специальный тип дробилки системы
Двигатель: 90 кВт - 110 кВт
Тоннаж По Запросу
1000 x 750 мм Специальный Тип Вторичной Ударной дробилки Системы
Двигатель: 45 кВт
Под экраном наличии конвейерная 800 мм

Складной тип
- Складной конвейер 2 единицы 500 мм Складного типа
- 2. Главный ленточный транспортер дробилки 5000 мм Крест-Накрест типа
- Передвижная Система Шасси 3-Осевое Специальное Сконструированное Шасси
- Гидравлическая Система

В системе имеется 4 гидравлических ножных механизма. После того, как эти ноги зафиксированы, они укрепляются 6 фиксированными ногами.
В дробилке также имеются 2 подъемных поршня для открывания и закрывания. Эти 6 поршней управляются специальной системой управления.
Гидравлическая Силовая Система 125 Литров
Магнитная конвейерная лента 750 мм (опционально)

- Материал панели-марка Schneider Electric или Telemecanique.
- Бортовая система имеет систему плавного пуска Abb и специальную систему управления.

- Вся наша продукция сертифицирована Европейским Союзом CE.
- Общий вес: 41 000 кг
- Транспортные размеры: Ширина 3000 мм х Длина 15.000 мм х Высота 4500 мм

Для получения дополнительной информации, пожалуйста, свяжитесь с нами!
Satılık 640 Mobil kırma ve eleme tesisi

Genel 640 kapalı devre kırma sistemi, tüm sistem tek bir platformda toplanır ve 1 kamyon ile taşınabilir.
30 dakika içinde çalışacak şekilde tasarlanmıştır.
Sert ve kırılması zor taş (bazalt, granit) ve madenlerin (demir cevheri, krom madeni, kuvars) ezilmesi için en uygun olanıdır.
Aşındırıcı malzemeleri kırmak için ideal bir kesici ünitedir.

Titreşimli besleyici ve rezervuar
Besleme sistemi 2 vibro motor tarafından tahrik edilir. Bu şekilde sorunsuz çalışır ve minimum bakım ile çalışır.
Besleyici haznesi, ekskavatör ve yükleyici ile beslemek için uygundur ve sürekli çalışma sırasında ek bölmelerle kamyona beslenebilir.
Besleyicideki ve rezervuardaki tüm aşınma noktaları giyilebilir zırh ile korunmaktadır.
Besleyici tabletin bir tarama sistemi vardır. By-pass konveyörü sayesinde, bu elenmiş zemin malzemesi stok alanına dökülebilir.

Çeneli Kırıcı
Boyut: 600x400mm astar tipi
Motor gücü: 30-37 Kw
Ayarlanabilir mekanizma ve çeneli kırıcı kolayca ayarlanabilir.
- Ana Konveyör Bant sistemi 600 mm
Palet tipi konveyör kauçuktur.
- Titreşimli Elek Sistemi Yüksek Kapasiteli Tip
Boyut: 1300x4000mm
Motor gücü 11 KW
Kat Sayısı: 3 Kat

İkincil Darbeli Kırıcı (Sert Malzeme Kırıcı)
1120 x 500 mm özel tip Darbeli kırıcı sistemi
Motor: 90 Kw-110 Kw
İstek Üzerine Tonaj
1000 x 750 mm özel tip ikincil Darbeli kırıcı sistemi
Motor: 45 Kw
Ekran altı stok Konveyörü 800 mm

Katlanır tip
- Stok Konveyör 2 adet 500 mm Katlanır tip
- 2. Kırıcı ana bant Konveyörü 5000 mm çapraz tip
- Mobil Şasi Sistemi 3 Eksenli Özel Şasi
- Hidrolik Sistem

Sistemde 4 adet hidrolik ayak mekanizması bulunmaktadır. Bu ayaklar kilitlendikten sonra, 6 sabit ayak ile güçlendirilirler.
Kırıcıda açma ve kapama için 2 kaldırma pistonu da vardır. Bu 6 piston özel kontrol sistemi ile kontrol edilir.
Hidrolik Güç Sistemi 125 Litre
Manyetik Konveyör Bant 750 mm (isteğe bağlı)

- Panel malzemesi Schneider Electric veya Telemecanique markasıdır.
- Yönetim Kurulu sistemi ABB yumuşak marş sistemi ve özel kontrol sistemi vardır.

- Tüm ürünlerimiz Avrupa Birliği CE sertifikalıdır.
- Toplam ağırlık: 41,000 Kg
- Taşıma Ölçüleri: Genişlik 3000 mm x uzunluk 15.000 mm x Yükseklik 4500 mm

Daha fazla bilgi için bizimle iletişime geçebilirsiniz..
Important
This offer is for guidance only. Please request more precise information from the seller.
Safety tips
Seller's contacts
GENERAL MAKİNA
Seller with Machineryline for 1 year
The phone numbers have been checked
Halit Taşcan
Languages:
English, Turkish
Abdelkader TOUMERT
Languages:
English, French, Turkish, Arabic
Turkey, Aegean Region, İzmir, Yazıbaşı Sanayi Bölgesi, Balkan Cad. 322 Sk. 29 Ekim Torbalı
Seller's local time: 20:22 (+03)
Selling machinery or vehicles?
You can do it with us!