You may find interesting
Close
New KINGWAY Ep70
€6,305
New AUSBAU Rampa załadowcza, mobil rampe, rampe de incarcare
€5,200
New Blacha LOHR ALUMINIOWA PRODUCENT
€34.78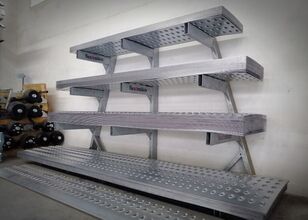 New Blacha LOHR STAL OCYNKOWANA PRODUCENT
€32.61
New AZ-MACHINERY STAR-8
€8,950
New AZ-MACHINERY AZ RAMP-EASY 12
€8,750
New MOBILE RAMP RM.07 loading dock ramp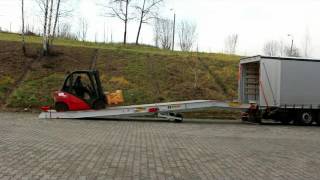 1/15
Location
Poland
Andrychów
Placed on
more than 1 month
Description
Overall dimensions
11.6 m × 2.3 m × 0.9 m
AS A MANUFACTURER / FACTORY, WE PRESENT A DIRECT OFFER FOR OUR PRODUCTS !
EQUIPMENT AND FINAL PRICES TO BE AGREED AND NEGOTIATED !

HOTLINE : 0048516004939

For more information please contact guardians:


BELGIUM, HOLLAND, DENMARK, NOWREY, SWEDEN: 0048516004804

GERMANY, AUSTRIA, FRANCE, SPAIN, PORTUGAL: 0048516004901

CZECH REPUBLIC, SLOVAKIA, SLOVENIA, HUNGARY, CROATIA, BOSNIA AND HERZEGOVINA, SERBIA, MONTENEGRO, BULGARIA, ALBANIA, MACEDONIA, GREECE, LITHUANIA, LATVIA, ESTONIA: 0048508010106

SWITZERLAND, ITALY, ROMANIA, GREAT BRITAIN, IRELAND, ICELAND, FINLAND: 0048516004831

UKRAINE: 0048 516004817 or 0048516004916

RUSSIA: 0048516004830

SHORT DESCRIPTION:

Mobile ramp for fork-lifts,
Load capacity 7 000 kg,
Possible also mobile ramp for fork-lifts with load capacity 9 000kg or 11 000kg according to the customer's choice – price for confirmation,
Leveling range 900 mm – 1550 mm,
Dip galvanized as standard (painting on request).
Equipment:
Hydraulic system used to set a comfortable working height:
- manual hydraulic pump with a tank
- hydraulic cylinders
- pump handle
Safety system ramp from slipping during unloading / loading:
- chains with hooks for latching
- castles chain tension
The chassis for moving the ramp:
- framework construction
- two truck wheels with full construction
- test fixture for attaching the fork
Als Hersteller / Fabrik präsentieren wir ein direktes Angebot für unsere Produkte.
AUSRÜSTUNG UND ENDPREISE ZU VEREINBAREN UND ZU VERHANDELN

HOTLINE : 0048516004939

Für weitere Informationen kontaktieren Sie die Wächter::

BELGIUM, HOLLAND, DENMARK, NOWREY, SWEDEN: 0048516004804

DEUTSCHLAND, ÖSTERREICH, FRANKREICH, SPANIEN, PORTUGAL: 0048516004901

TSCHECHISCHE REPUBLIK, SLOWAKEI, SLOWENIEN, UNGARN, KROATIEN, BOSNIEN UND HERZEGOWINA, SERBIEN, MONTENEGRO, BULGARIEN, ALBANIEN, MAZEDONIEN, GRIECHENLAND, LITAUEN, LETTLAND, ESTLAND: 0048508010106

SCHWEIZ, ITALIEN, RUMÄNIEN, GROSSBRITANNIEN, IRLAND, ISLAND, FINNLAND: 0048516004831

UKRAINE: 0048516004817 oder 0048516004916

RUSSLAND: 0048516004830

KURZBESCHREIBUNG:

- aus konstruktiven Stahl S355J hergestellt,
- verzinkt.
- manuelle Hydraulikpumpe mit Behälter,
- Hydraulikzylindern,
- Henkel der Pumpe
- Kette mit den Hacken zuzuschnappen,
- Sperren zu Kettenspannung.
- Rahmenkonstruktion,
- zwei Räder mit völligem Konstruktion,
- Konsole zu montierender Schaltgabel.
JAKO PRODUCENT / FABRYKA PRZEDSTAWIAMY OFERTĘ BEZPOŚREDNIĄ NA SWOJE PRODUKTY !
WYPOSAŻENIE I CENY OSTATECZNE DO UZGODNIENIA I NEGOCJACJI !

Więcej informacji udzielą opiekunowie regionów:

woj. opolskie, łódzkie, : 516 004 804 i dolnośląskie (powiaty: Jeleniogórski; Kamiennogórski; Świdnicki; Wałbrzyski; Dzierżoniowski; Strzeliński; Ząbkowicki; Kłodzki):

woj. śląskie, świętokrzyskie, małopolskie : 516 004 817

woj. podkarpackie, lubelskie : 516 004 916

woj. lubuskie, wielkopolskie: 516 004 815 i dolnośląskie (powiaty: Oławski; Wrocławski; Średzki; Jaworki; Złotoryjski; Lwówecki; Lubański; Zgorzelecki; Bolesławiecki; Legnicki; Lubiński; Polkowicki; Wołowski; Trzebnicki; Oleśnicki; Milicki; Górowski; Głogowski)

woj. podlaskie, warmińsko - mazurskie: 516 004 806

woj. kujawsko-pomorskie, pomorskie, zachodnio-pomorskie: 516 004 805

woj. mazowieckie: 508 01 01 01 (Infolinia)

OPIS SKRÓCONY:

Mobilna rampa załadunkowa przystosowana do wjazdu wózkami widłowymi,
Dopuszczalne obciążenie 7 000 kg,
Dostępne także rampy o nośności 9 000kg i 11 000kg (cena i termin realizacji do uzgodnienia)
Zakres poziomowania 900 mm – 1550 mm,
W standardzie ocynk ogniowy (możliwość lakierowania na życzenie)
Wyposażenie:
Układ hydrauliczny służący do ustawienia odpowiedniej wysokości pracy:
- ręczna pompa hydrauliczna ze zbiornikiem
- siłowniki hydrauliczne
- rączka pompy
Układ zabezpieczający rampę przed przesuwaniem podczas rozładunku/załadunku:
- łańcuchy z hakami zaczepowymi
- zamki do naciągu łańcucha
Układ jezdny służący do przemieszczania rampy:
- konstrukcja ramowa wózka
- 2 koła o pełnej budowie
- uchwyt do mocowania wideł wózka
Important
This offer is for guidance only. Please request more precise information from the seller.
Safety tips
Seller's contacts
Zasław Export
Languages:
English, Russian, Polish
Poland, Malopolskie, 34120, Andrychów, ul. Krakowska 140
Seller's local time: 22:31 (CEST)
Selling machinery or vehicles?
You can do it with us!