You may find interesting
Close
New AZ-MACHINERY AZ RAMP-DCQ6
€7,950
New AZ-MACHINERY AZ RAMP-DCQ
€7,950
New AZ-MACHINERY INTENSIV-6
€8,250
New AZ-MACHINERY AZ RAMP-EASY 12
€8,750
New AZ-MACHINERY STAR-8
€8,950
New AZ-MACHINERY RAMP-DCQ8
€8,250
New AZ-MACHINERY AZ RAMP -EASY XL 6 loading dock ramp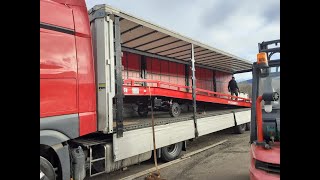 1/12
Location
France
Palau-de-Cerdagne
Placed on
more than 1 month
Seller stock ID
EASY XL-6
Description
Overall dimensions
11.85 m × 2.2 m × 0.9 m
Need delivery?
Calculate the cost of delivery
Mobile loading ramp designed for use on mixed terrain



Brand: AZ RAMP - Type: EASY-XL 6, Loading capacity: 6,000 Kg



Total length: 11,850 mm

Inclined Plane Length: 10,000 mm / Horizontal Plan Length: 1,850 mm

Overall Width Outside: 2 256 mm / Inside Width (Useful): 2 100 mm

Penetration in the truck: 340 mm



Leveling of the boom by manual hydraulic pump:

Height Mini: 900 mm -Height Max: 1,550 mm



Hot-dip galvanized structure, anti-slip grating running surface 2 Lashing Chains, Quick Hitch for forklift forklift travel, ramp mounted on solid solid tires, 120 mm side safety rails



Slopes: Min: 9.00% - Max: 15.5%



Applications: Specially designed for mixed use, its use on uneven surfaces such as dirt, gravel, damaged soil will be very effective. Loading / Unloading trucks type Plateau or Tautliner, wagons, shipping containers.



The + Products: AZ RAMP - EASY XL range is made of heavy steel, hot dip galvanized. Its full access platform will allow you easy access to all types of material handling equipment, including electric pallet trucks, pallet stackers, electric forklifts with 3 wheels or 4 wheels.
Rampa de carga móvil AZ RAMP-EASY XL-6. LARGA con salida plana
8.750,00 €
IVA no incluido más gastos de envío
A+++
Ficha del producto
Disponible
Plazo de envío: 1 día(s)
Cantidad:

1

Añadir a la cesta
Descripción
Rampa de carga móvil diseñada para usar en terrenos mixtos



Marca: AZ RAMP - Tipo: EASY-XL 6, Capacidad de carga: 6,000 Kg



Longitud total: 11.850 mm

Longitud del plano inclinado: 10,000 mm / Longitud del plano horizontal: 1,850 mm Ancho total exterior: 2 256 mm / ancho interior (útil): 2100 mm

Penetración en el camión: 340 mm.



Nivelación de la pluma mediante bomba hidráulica manual:

Altura Mini: 900 mm-Altura Máx .: 1.550 mm



Estructura galvanizada en caliente, superficie de rodadura antideslizante 2 cadenas de amarre, enganche rápido para el recorrido de la carretilla elevadora, montada en rampa sobre neumáticos sólidos sólidos, rieles de seguridad laterales de 120 mm



Pendientes: Mín .: 9.00% - Máx .: 15.5%



Aplicaciones: Especialmente diseñado para uso mixto, su uso en superficies irregulares como tierra, grava, tierra dañada será muy efectivo Carga / descarga de camiones tipo Plateau o Tautliner, vagones, contenedores de envío.



Los + productos: AZ RAMP - La gama EASY XL está hecha de acero pesado, galvanizado en caliente. Su plataforma de acceso completo le permitirá acceder fácilmente a todo tipo de equipos de manejo de materiales, incluidas transpaletas eléctricas, apiladoras, carretillas elevadoras eléctricas con 3 o 4 ruedas.
Rampe de chargement mobile conçue pour l'usage sur terrains mixtes



Marque: AZ RAMP - Type: EASY-XL 6, Capacité de chargement : 6 000 Kg



Longueur Totale : 11 850 mm

Longueur Plan Incliné: 10 000 mm / Longueur Plan Horizontal : 1 850 mm

Largeur Totale Extérieur: 2 256 mm / Largeur Intérieur ( Utile ): 2 100 mm

Pénétration dans le camion: 340 mm



Mise à niveau de la rampe par pompe hydraulique manuelle :

Hauteur Mini: 900 mm -Hauteur Maxi: 1 550 mm



Structure galvanisée à chaud , surface de roulement en caillebotis anti-dérapant

2 Chaines d'Arrimage, Crochet d'attelage rapide pour déplacement via fourche de chariot élévateur, rampe montée sur pneus pleins souples, rails de sécurité latéraux hauteur 120 mm



Pentes : Mini: 9.00 % - Maxi : 15.5 %



Applications: Spécialement conçue pour une utilisation mixte, son utilisation sur des surfaces accidentées telles que terre-battue, graviers, sols abîmés sera d'une grande efficacité.Chargement / Déchargement de camions de type Plateau ou Tautliner, wagons, containers maritimes.



Les + Produits:

La gamme AZ RAMP - EASY XL est fabriquée en acier lourd, galvanisé à chaud.

Sa plate-forme d'accès pleine vous permettra un accès facilité avec tous types de matériels de manutention, notamment les transpalettes électriques, gerbeurs de palette, chariots élévateur électrique à 3 roues ou 4 roues .
Important
This offer is for guidance only. Please request more precise information from the seller.
Safety tips
Seller's contacts
AZ MACHINERY
Seller with Machineryline for 3 years
The phone numbers have been checked
Jérome GUIGUET
Languages:
English, French, Spanish
France, Occitanie, 66340, Palau-de-Cerdagne, Rue de la Scierie, 5,
Seller's local time: 23:50 (CET)
Selling machinery or vehicles?
You can do it with us!