MERCEDES-BENZ 1428 AF - FireTruck 4x4 - 3000L ZieglerStructure - WaterCanon fire truck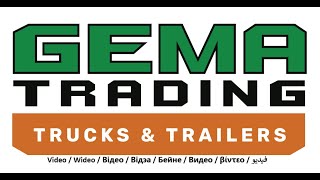 1/27
Model
1428 AF - FireTruck 4x4 - 3000L ZieglerStructure - WaterCanon
Year of manufacture
01/1990
First registration
1990-04-05
Location
Netherlands
Oud Gastel
Placed on
more than 1 month
Remote inspection
Request an independent technical inspection
Need delivery?
Calculate the cost of delivery
= Additional options and accessories =
- Analogue tacho
- Spotlights
- Transmission equipment
= Remarks =
YOU TUBE LINK:
show contacts
WDB61526615306445
05-04-1990
4x2
Gearbox: manual
engine brake
Front axle: leaf sprung
Rear axle: air suspension
Tires front axle: 60%
Rear axle tires: 70%
Spare wheel
Cab: Double Cab
Number of seats: 9
Tool boxes
Hoses on reel
flashing lights
high beam
Work light rear
Superstructure: Ziegler TLF 16
Year of construction: 1988
Pump FP 16/8-2HH
Hours: 363
Extendable Light Pole
3000L
taken out of service in 2021 at the voluntary fire brigade in Austria
Very neat condition
Also very suitable for conversion to expedition vehicle and or camper
= More information =
Bodywork: Fire truck
Transmission: Manual, 12 gears, Manual gearbox
Cab: single, day
Make of bodywork: Ziegler Forrest Cannon
General condition: good
Technical condition: good
Visual appearance: good
Bodové reflektory
= Weitere Optionen und Zubehör =
- Sendegeräte
- Tacho analog
- Verstrahler
= Anmerkungen =
YOUTUBE-LINK:
show contacts
WDB61526615306445
05-04-1990
4x2
Getriebe: manuell
Motorbremse
Vorderachse: blattgefedert
Hinterachse: Luftfederung
Reifen Vorderachse: 60%
Reifen der Hinterachse: 70%
Ersatzrad
Kabine: Doppelkabine
Anzahl Sitzplätze: 9
Werkzeugkästen
Schläuche auf Rolle
blitzende Lichter
Fernlicht
Arbeitsscheinwerfer hinten
Aufbau: Ziegler TLF 16
Baujahr: 1988
Pumpe FP 16/8-2HH
Stunden: 363
Ausziehbarer Lichtmast
3000L
2021 bei der Freiwilligen Feuerwehr in Österreich außer Dienst gestellt
Sehr gepflegter Zustand
Auch sehr gut geeignet zum Umbau zum Expeditionsfahrzeug und/oder Wohnmobil
= Weitere Informationen =
Aufbau: Löschfahrzeug
Getriebe: Manual, 12 Gänge, Schaltgetriebe
Kabine: einfach, Tag
Marke des Aufbaus: Ziegler Forrest Cannon
Allgemeiner Zustand: gut
Technischer Zustand: gut
Optischer Zustand: gut
= Flere valgmuligheder og mere tilbehør =

- Projektører

= Yderligere oplysninger =

Karosseri: Brandbil
Transmission: Manual, 12 gear, Manuel gearkasse
Førerhus: enkeltseng, day cab
Karosserifabrikat: Ziegler Forrest Cannon
Overordnet stand: god
Teknisk stand: god
Visuelt udseende: god
= Más opciones y accesorios =

- Reflectores

= Más información =

Carrocería: Camión de bomberos
Transmisión: Manual, 12 marchas, Cambio manual
Cabina: simple, día
Marca carrocería: Ziegler Forrest Cannon
Estado general: bueno
Estado técnico: bueno
Estado óptico: bueno
= Plus d'options et d'accessoires =

- Phares longue portée

= Plus d'informations =

Construction: Voiture de pompier
Transmission: Manual, 12 vitesses, Commande manuelle
Cabine: simple, jour
Marque de construction: Ziegler Forrest Cannon
État général: bon
État technique: bon
État optique: bon
Spotlámpák
Fari di profondità
= Aanvullende opties en accessoires =
- Tacho Analoog
- Verstralers
- Zendapparatuur
= Bijzonderheden =
YOU TUBE LINK:
show contacts
WDB61526615306445
05-04-1990
4x2
Versnellingsbak: manueel
Motorrem
Voor-as: blad geveerd
Achter-as: lucht geveerd
Banden voor-as: 60%
Banden achter-as: 70%
Reservewiel
Cabine: Dubbele cabine
Aantal zitplaatsen: 9
Gereedschapskisten
Slangen op haspel
Zwaailampen
Verstraler
Werklamp achterzijde
Opbouw: Ziegler TLF 16
Bouwjaar: 1988
Pomp FP 16/8-2HH
Uren: 363
Uitschuifbare Lichtmast
3000L watercapaciteit
in 2021 uit dienst genomen bij de vrijwillige brandweer in Oostenrijk
Zeer nette staat
Ook zeer geschikt voor ombouw naar expeditie voertuig en of camper
= Meer informatie =
Opbouw: Brandweerwagen
Transmissie: Manual, 12 versnellingen, Handgeschakeld
Cabine: enkel, dag
Merk opbouw: Ziegler Forrest Cannon
Algemene staat: goed
Technische staat: goed
Optische staat: goed
= Więcej opcji i akcesoriów =

- Reflektory

= Więcej informacji =

Budowa: Wóz strażacki
Pędnia: Manual, 12 biegi, Manualna skrzynia biegów
Kabina: pojedynczy, dzienna
Marka konstrukcji: Ziegler Forrest Cannon
Stan ogólny: dobrze
Stan techniczny: dobrze
Stan wizualny: dobrze
= Дополнительные опции и оборудование =

- Точечные лампы

= Дополнительная информация =

Кузов: Пожарный автомобиль
Трансмиссия: Manual, 12 передачи, Механическая коробка передач
Кабина: односпальная, кабина без спального места (day)
Марка кузова: Ziegler Forrest Cannon
Общее состояние: хорошее
Техническое состояние: хорошее
Внешнее состояние: хорошее
Reflektory
Spot lambaları
Important
This offer is for guidance only. Please request more precise information from the seller.
Safety tips
Seller's contacts
Gert-Jan den Otter
Languages:
English, Dutch
Netherlands, Noord Brabant, 4751 GS, Oud Gastel, Steenstraat 16
Seller's local time: 14:16 (CEST)
Selling machinery or vehicles?
You can do it with us!