New AXIONSS AX-10 diesel generator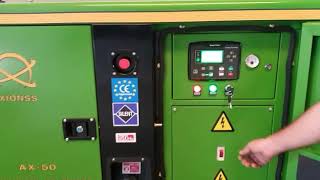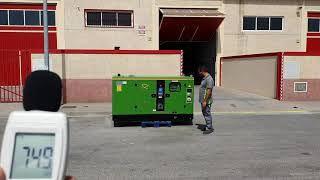 1/14
Year of manufacture
01/2020
First registration
2020-01
Location
Spain
Cuervo De Sevilla
Placed on
more than 1 month
Description
Overall dimensions
1.818 m × 850 m × 1.113 m
Engine
Brand
YTO AX-10 PLUS STRONG
Need delivery?
Calculate the cost of delivery
Description Generator Groups
The family of Generating Groups Axionss consists of three powers, the AX-15, AX-50 and the AX-100 kaveas, all of them incorporating engines of the latest generation and benefits.
The AX-15 15 kvas is a lightweight equipment which can be transported in a suitable trailer with a weight of 586kg, 2 cylinders and 2,160 displacement capacity, Three-phase, 12 KW Power, 400 / 220vr at 1500 rpm, 50 Hz, refrigerated per water circuit, 12 v. battery, 25% rpm consumption 1.69 Liters per Hour, Stanford Brushless Class Alternator (Brusleess), automatic idle settings, and others, internal or external wiring connections in sockets , electric motor and alternator protections, smart panel with USB input and multiple functions such as remote start, motor load warning, warming alarm warning, multi language, engine status, maintenance, on-screen manual etc., soundproof box high collection, etc., its EXW price in our facilities.
The Model AX-50 50 kvas with the AX4100ZD engine similar to its small brother in appearance, soundproof box, but here we talk about a 4 Cylinder equipment that displaces 3,610 with a weight of 836 kg, 41 kW, 72 amp., 41 kW of nominal power, 400 / 220vr, 1500 rpm, cooled by water circuit, 12 V battery and features in control panel and more similar, Consumption at 25% rpm 4.8 Liters Hour, its EXW price in our facilities.
The AX-100 Model, the largest in the group, incorporates a powerful 6-cylinder AX6105 AZD engine, with a displacement of 6,490, incorporates an oil and water radiator for better cooling in a large engine like this, 50 Hz, 80 kW , a weight of 1,365kg. And that also assembles a smart multicontrol panel as indicated in the AX15, as well as soundproof box with a lot of feedback, silent bolts of high absorption, etc., its EXW price in our facilities.
IN ALL EQUIPMENT, ATS MODULE (GENERATOR START UP TO NETWORK VOLTAGE GENERATOR) AND THE REMOTE START OPTION WITH GSM MODULE CAN BE SUPPLIED ADDITIONALLY
FOR MORE DETAILS, CONSULT THE TECHNICAL DATA SHEET OF EACH TEAM.
ALL TEAMS COMPLY WITH EUROPEAN QUALITY REGULATIONS ACCORDING TO THE ATTACHED CERTIFICATE.
THE EQUIPMENT IS SOLD WITH A WARRANTY, ACCORDING TO CONTRACT, OF SIX MONTHS OR 250 HOURS OF USE IN ALL THE PARTS, THE OIL IS ALSO SUPPLIED AND COOLED TO APPEAR THAT THE WARRANTY MAY HAVE COVERAGE.
WE GUARANTEE THE SUPPLY OF SPARE PARTS ON ALL THE EQUIPMENT WE SELL, MAX. TWO WEEKS.
NO doubt the AXIONSS EQUIPMENT IS THE BEST QUALITY OFFER / MARKET PRICE.
وصف مجموعات المولدات
تتكون عائلة مجموعات توليد الطاقة Axionss من ثلاث قوى ، AX-15 و AX-50 و AX-100 kaveas ، وكلها تضم ​​محركات تضم أحدث جيل وفوائد.
إن AX-15 15 kvas عبارة عن معدات خفيفة الوزن يمكن نقلها في مقطورة مناسبة بوزن 586 كجم وأسطوانات وسعة إزاحة 2،160 ، طاقة ثلاثية الأطوار ، 12 كيلو وات ، 400/220 فولت عند 1500 دورة في الدقيقة ، 50 هرتز ، مبردة لكل دائرة مياه ، بطارية 12 فولت ، استهلاك 25٪ دورة في الدقيقة 1.69 لتر في الساعة ، مولد ستانفورد بدون فرش فئة (Brusleess) ، إعدادات الخمول التلقائي ، وغيرها ، توصيلات الأسلاك الداخلية أو الخارجية في المقابس ، حماية المحرك الكهربائي والمولد ، لوحة ذكية مع مدخل USB ووظائف متعددة مثل التشغيل عن بُعد ، تحذير حمل المحرك ، تحذير من ارتفاع درجة الحرارة ، متعدد اللغات ، حالة المحرك ، الصيانة ، دليل على الشاشة وما إلى ذلك ، صندوق عازل للصوت جمع عالية ، وما إلى ذلك ، سعرها EXW في مرافقنا.
الطراز AX-50 سعة 50 كيلو فولت مع محرك AX4100ZD يشبه أخوه الصغير في المظهر ، صندوق عازل للصوت ، ولكن هنا نتحدث عن جهاز 4 Cylinder يستبدل 3.610 ويزن 836 كجم ، 41 كيلو واط ، 72 أمبير ، 41 كيلو واط من الطاقة الاسمية ، 400 / 220VR ، 1500 دورة في الدقيقة ، مبردة بواسطة الدائرة المائية ، بطارية 12 فولت وميزات في لوحة التحكم وأكثر مماثلة ، الاستهلاك عند 25 ٪ دورة في الدقيقة 4.8 لتر ساعة ، سعرها EXW في مرافقنا.
يتضمن الموديل AX-100 ، وهو الأكبر في المجموعة ، محرك AX6105 AZD قوي من 6 أسطوانات ، مع إزاحة تبلغ 6،490 ، يشتمل على مشعاع زيت ومياه من أجل تبريد أفضل في محرك كبير مثل هذا ، 50 هرتز ، 80 كيلو واط ، وزنها 1،365 كجم. ويجمع ذلك أيضًا لوحة ذكية متعددة التحكم كما هو موضح في AX15 ، بالإضافة إلى صندوق عازل للصوت يحتوي على الكثير من الملاحظات ، ومسامير صامتة ذات امتصاص عال ، وما إلى ذلك ، بسعر EXW في منشآتنا.
في جميع المعدات ، يمكن تزويد ATS MODULE (مولد بدء التشغيل حتى مولِّد شبكة الجهد الكهربي) وخيار بدء التشغيل عن بُعد باستخدام GSM gMODE إضافيًا
لمزيد من التفاصيل ، استشر ورقة البيانات الفنية لكل فريق.
تتوافق جميع الفرق مع قواعد الجودة الأوروبية وفقًا للشهادة المرفقة.
يتم بيع المعدات بضمان ، وفقًا لعقد ، لمدة ستة أشهر أو 250 ساعة من الاستخدام في جميع الأجزاء ، كما يتم تزويد النفط وتثبيته حتى يظهر أن الضمان قد يكون قد تضمنه.
نحن نضمن توفير قطع الغيار على جميع المعدات التي نبيعها ، MAX. أسبوعان.
لا شك في أن AXIONSS EQUIPMENT هي أفضل سعر / عرض لسوق الجودة.
DISPONIBILIDAD INMEDIATA.
ESTOCAJE LIMITADO.
GRAN OPORTUNIDAD AHORA.
Teléfono contacto
show contacts
.
Nuevo, insonorizado, trifásico, con chasis reforzado, garantizado por 2 años y financiable. Precio sin sorpresas (IVA y transporte incluido).
Generador eléctrico. Grupo Electrógeno AX-10 PLUS STRONG de 10 kVAS/8 kW. 400V.
Equipo de 680 kg de peso e insonorizado. Funcionamiento a 1.500 rpm y refrigerado por agua. Está montado con Motor Quanchai y Alternador Modelo Stamford (Brushless "sin escobillas") que no requiere mantenimiento.
Todos los equipos Axionss se entregan puestos a punto y testados en nuestro banco de pruebas con test report.
El precio indicado incluye los aceites y líquidos refrigerantes que recomendamos como fabricantes con un valor aproximado de más 100€, quedando el grupo electrógeno listo para su perfecto funcionamiento sin incluir este coste en el precio final del cliente. Para su conocimiento, le indicamos que ninguna otra empresa de grupos electrógenos incluye el aceite y los líquidos refrigerantes.
Todos los equipos están garantizados por 2 años o 1.000 horas de trabajo, aquello que antes ocurra según anexo.
Disponemos de servicio técnico propio, así como un banco de repuestos para la entrega de pedidos en la Península en 24 horas.
Description Groupes de générateurs
La famille de groupes électrogènes Axions comprend trois puissances: les kaveas AX-15, AX-50 et AX-100, toutes intégrant des moteurs de dernière génération et des avantages.
L'AX-15 15 kvas est un équipement léger qui peut être transporté dans une remorque appropriée pesant 586 kg, 2 cylindres et offrant une capacité de déplacement de 1 160, Triphasée, puissance de 12 KW, 400 / 220vr à 1500 tr / min, 50 Hz, réfrigérée par circuit d'eau, batterie 12 v., consommation à 25% tr / min 1,69 litre par heure, alternateur Stanford Brushless Class (Brusleess), réglages de ralenti automatique et autres, connexions de câblage interne ou externe dans les prises , protections de moteur électrique et d'alternateur, panneau intelligent avec entrée USB et fonctions multiples telles que démarrage à distance, avertissement de charge moteur, avertissement d'alarme de réchauffement, multilingue, statut du moteur, maintenance, manuel à l'écran, etc., boîte insonorisée haute collection, etc., son prix EXW dans nos installations.
Le modèle AX-50 50 kvas avec le moteur AX4100ZD similaire à son petit frère, boîtier insonorisé, mais nous parlons ici d'un équipement à 4 cylindres qui déplace 3 610 personnes avec un poids de 836 kg, 41 kW, 72 ampères, 41 kW de puissance nominale, 400 / 220vr, 1500 tr / min, refroidi par circuit d'eau, batterie 12 V et caractéristiques dans le panneau de commande et similaires, Consommation à 25% tr / min 4,8 litres, son prix EXW dans nos installations.
Le modèle AX-100, le plus grand du groupe, intègre un puissant moteur AX6105 AZD à 6 cylindres, d'une cylindrée de 6 490 kg, intègre un radiateur à huile et à eau pour un meilleur refroidissement dans un moteur aussi puissant, 50 Hz, 80 kW , un poids de 1,365 kg. Et cela assemble également un panneau multicontrôleur intelligent comme indiqué dans le AX15, ainsi qu'un boîtier insonorisé avec beaucoup de retour, des boulons silencieux à forte absorption, etc., son prix EXW dans nos installations.
DANS TOUS LES ÉQUIPEMENTS, LE MODULE ATS (LE GÉNÉRATEUR DÉMARRANT AU GÉNÉRATEUR DE TENSION DE RÉSEAU) ET L'OPTION DE DÉMARRAGE À DISTANCE AVEC LE MODULE GSM PEUVENT ÊTRE FOURNI SUPPLÉMENTAIRE
POUR PLUS DE DÉTAILS, CONSULTEZ LA FICHE TECHNIQUE DE CHAQUE ÉQUIPE.
TOUTES LES ÉQUIPES SONT CONFORMES AUX NORMES EUROPÉENNES DE QUALITÉ CONFORMÉMENT AU CERTIFICAT ATTACHÉ.
L'ÉQUIPEMENT EST VENDU AVEC UNE GARANTIE, SELON UN CONTRAT, DE SIX MOIS OU 250 HEURES D'UTILISATION DANS TOUTES LES PARTIES, L'HUILE EST FOURNIE ET ​​PERMETTANT D'APPRENDRE QUE LA GARANTIE PEUT COUVRIR.
NOUS GARANTISSONS LA FOURNITURE DE PIÈCES DE RECHANGE SUR TOUT L'ÉQUIPEMENT QUE NOUS VENDONS, MAX. DEUX SEMAINES.
Nul doute que AXIONSS EQUIPMENT EST LA MEILLEURE OFFRE QUALITÉ / PRIX DU MARCHÉ.
Описание Генератор групп
Семейство генерирующих групп Axionss состоит из трех сил: кавеи AX-15, AX-50 и AX-100, каждая из которых включает в себя двигатели последнего поколения и преимущества.
AX-15 15 квас - это легкое оборудование, которое можно перевозить в подходящем прицепе с массой 586 кг, 2 цилиндрами и рабочим объемом 2160 т., Трехфазный, мощностью 12 кВт, 400/220 В при 1500 об / мин, 50 Гц, с охлаждением. для каждого водяного контура, батарея 12 В, потребление 25 об / мин 1,69 литра в час, генератор Stanford Brushless Class (Brusleess), автоматические настройки холостого хода и другие, внутренние или внешние проводные соединения в розетках , защита электродвигателя и генератора переменного тока, интеллектуальная панель с USB-входом и несколькими функциями, такими как дистанционный запуск, предупреждение о нагрузке двигателя, предупреждение о перегреве, многоязычность, состояние двигателя, техническое обслуживание, экранное руководство и т. д., звукоизоляционная коробка высокая коллекция и т.д., его цена EXW на наших объектах.
Модель AX-50 50 квас с двигателем AX4100ZD, похожим на своего младшего брата по внешнему виду, со звукоизоляционной коробкой, но здесь мы говорим о 4-цилиндровом оборудовании, которое вытесняет 3610 с весом 836 кг, 41 кВт, 72 амп., 41 кВт. Номинальная мощность 400/220 В, 1500 об / мин, охлаждаемая водяным контуром, аккумулятор 12 В и функции панели управления и многое другое, Потребление при 25% об / мин 4,8 литра в час, его цена EXW на наших объектах.
Модель AX-100, самая крупная в группе, включает в себя мощный 6-цилиндровый двигатель AX6105 AZD с рабочим объемом 6490, масляный и водяной радиатор для лучшего охлаждения в таком большом двигателе, 50 Гц, 80 кВт. , вес 1365 кг. И это также собирает умную мультиконтрольную панель, как указано в AX15, а также звукоизолирующую коробку с большим количеством обратной связи, бесшумные болты с высоким поглощением и т. Д., Свою цену EXW на наших объектах.
ВСЕ ОБОРУДОВАНИЕ, МОДУЛЬ ATS (ГЕНЕРАТОР ЗАПУСКАЕТСЯ К ГЕНЕРАТОРУ НАПРЯЖЕНИЯ В СЕТИ) И ОПЦИЯ ДИСТАНЦИОННОГО ЗАПУСКА С МОДУЛЕМ GSM МОЖЕТ БЫТЬ ДОСТАВЛЕНА ДОПОЛНИТЕЛЬНО
ДЛЯ БОЛЬШЕ ДЕТАЛЕЙ, ОБРАТИТЕСЬ К ТЕХНИЧЕСКОМУ ЛИСТУ ДАННЫХ КАЖДОЙ КОМАНДЫ.
ВСЕ КОМАНДЫ СООТВЕТСТВУЮТ ЕВРОПЕЙСКИМ ПРАВИЛАМ КАЧЕСТВА В СООТВЕТСТВИИ С ПРИЛОЖЕННЫМ СЕРТИФИКАТОМ.
ОБОРУДОВАНИЕ ПРОДАЕТСЯ С ГАРАНТИЕЙ, ПО СОГЛАШЕНИЮ С ДОГОВОРОМ, НА ШЕСТЬ МЕСЯЦЕВ ИЛИ 250 ЧАСОВ ИСПОЛЬЗОВАНИЯ ВО ВСЕХ ЧАСТЯХ, МАСЛО ТАКЖЕ ПОСТАВЛЯЕТСЯ И ОХЛАЖДАЕТСЯ, ЧТО ГАРАНТИЯ МОЖЕТ ИМЕТЬ.
МЫ ГАРАНТИРУЕМ ПОСТАВКУ ЗАПАСНЫХ ЧАСТЕЙ НА ВСЕ ОБОРУДОВАНИЕ, которое мы ПРОДАЕМ, МАКС. ДВЕ НЕДЕЛИ.
Вне всякого сомнения, AXIONSS EQUIPMENT - ЛУЧШЕЕ ПРЕДЛОЖЕНИЕ КАЧЕСТВА / ЦЕНА НА РЫНКЕ.
Important
This offer is for guidance only. Please request more precise information from the seller.
Safety tips
Seller's contacts
Sales Mannager
Languages:
English, French, Spanish
Spain, Andalusia, 41749, Cuervo De Sevilla, C/ Antonio Machado 20
Seller's local time: 09:32 (CET)
Selling machinery or vehicles?
You can do it with us!