New MESAS 80 m3 MOBILE CONCRETE BATCHING PLANT concrete plant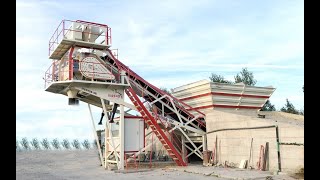 1/22
Model
80 m3 MOBILE CONCRETE BATCHING PLANT
Location
Turkey
Ankara
As Mesas Muhendislik Company based in Ankara, Turkey we have been manufacturing and exporting Concrete Batching Plants with our own brand name for the last 20 years.
Our company is one of the leading companies in the domestic sector keeping products in stocks.
All of our products are CE certificated . And we offer 24/7 customer support and aftersales services.
All of our products are made with care and covered for 1 year warranty!
Our products are exported to over twenty countries . Georgıa, Ukraine,Algerıa, Sudan,İraq, Egypt, Bosnıa and Hercegovına, Kosovo, Slovakia, Hungary, Romania, Morocco,Turkmenıstan, Uzbekıstan, are some of the countries where our plants are preferred by our clients.
Installation and Operator Training FREE.

PRODUCT FEATURES:

Aggregate Bunker ---------------------------------------4 x 12,5 m3 =50 m3

Aggregate Feeding Conveyor-------------------------W=800 mm H=8.500 mm

Concrete Mixer-----------------------------------------1.5 m3 Single Shaft - ( 2 x 22.5 kw YILMAZ motor )

Concrete Plant Automation----------------------------Full Automatic

Control Cabinet-----------------------------------------1.800 mm x 2.400 mm

Compressor----------------------------------------------400 lt - 5,5 kw GAMAK motor

Cement Silos---------------------------------------------1 x 100 Tons (Bolted)

Equipment of Cement Silo----------------------------Complete

Cement Screw Conveyor------------------------------Wam - Ozbekoglu - 273 x 8000 mm

Water Pump and Pressure Tank--------------------25 m3/h
En tant que société Mesas Muhendislik basée à Ankara, en Turquie, nous fabriquons et exportons des centrales à béton sous notre propre marque depuis 20 ans.

Notre société est l'une des principales entreprises du secteur domestique qui maintient ses produits en stock.
Tous nos produits sont certifiés CE. Et nous offrons une assistance client 24/7 et des services après-vente.
Tous nos produits sont fabriqués avec soin et couverts par une garantie d'un an!

Nos produits sont exportés vers plus de vingt pays. Georgıa, l'Ukraine, l'Algérie, le Soudan, l'Iraq, l'Égypte, la Bosnie-Herzégovine, le Kosovo, la Slovaquie, la Hongrie, la Roumanie, le Maroc, le Turkménistan, l'Ouzbékistan sont quelques-uns des pays où nos usines sont préférées par nos clients.
Installation et formation des opérateurs GRATUITES.

CARACTÉRISTIQUES DU PRODUIT:

Bunker d'agrégats ----------------------------------4 x 12,5 m3 = 50 m3

Convoyeur d'alimentation en granulats ------- L = 800 mm H = 8.500 mm

Bétonnière ------------------------------------------- 1.5 m3 à arbre unique - (2 X 22.5 kw moteur YILMAZ)

Automatisation des centrales à béton ---------Entièrement automatique

Armoire de commande ----------------------------1.800 mm x 2.400 mm

Compresseur ----------------------------------------400 lt - 5,5 kw Moteur GAMAK

Silos à ciment ----------------------------------------1 x 100 tonnes (boulonnées)

Equipement du silo à ciment ----------------------Complet

Convoyeur à vis de ciment -------------------------Wam - Ozbekoglu - 273 x 8000 mm

Pompe à eau et réservoir sous pression --------25 m3 / h
Как компания Mesas Muhendislik, базирующаяся в Анкаре, Турция, мы производим и экспортируем бетонные заводы под собственной торговой маркой в ​​течение последних 20 лет.
Наша компания - одна из ведущих компаний в отечественном секторе, хранящая продукты на складе.
Вся наша продукция сертифицирована CE. И мы предлагаем круглосуточную поддержку клиентов и послепродажное обслуживание.
Вся наша продукция изготовлена ​​с особой тщательностью и имеет гарантию 1 год!

Наша продукция экспортируется в более чем двадцать стран мира. Грузия, Украина, Алжир, Судан, Ирак, Египет, Босния и Герцеговина, Косово, Словакия, Венгрия, Румыния, Марокко, Туркменистан, Узбекистан - вот некоторые из стран, где наши заводы предпочитают наши клиенты.
БЕСПЛАТНАЯ установка и обучение оператора.


ОСОБЕННОСТИ ПРОДУКТА:

Совокупный бункер -------------------------------------------- 4 х 12,5 м3 = 50 м3

Совокупный подающий конвейер ------------------------- W = 800 мм, H = 8,500 мм

Бетономешалка --------------------------------------- ---------1.5 м3, один вал - (2 x 22.5 кВт двигатель YILMAZ)

Автоматизация бетонных заводов -----------------------Полностью автоматическая

Шкаф управления -------------------------------------------- 1,800 мм х 2,400 мм

Компрессор ----------------------------------------------------- 400 л - 5,5 кВт ГАМАК мотор

Цементные силосы ------------------------------------------- 1 х 100 тонн (на болтах)

Оборудование Цементного силоса ----------------------Complete

Цементный винтовой конвейер -------------------------- Wam - Ozbekoglu - 273 x 8000 мм

Водяной насос и напорный бак ------------------------ ---25 м3 / ч
Important
This offer is for guidance only. Please request more precise information from the seller.
Safety tips
Seller's contacts
Mesas Engineering
Seller with Machineryline for 3 years
The phone numbers have been checked
Aliya
Languages:
English, Turkish, Russian
Turkey, Central Anatolia, 06000, Ankara, 1245.sokak No : 18 Ostim
Seller's local time: 16:49 (+03)
Selling machinery or vehicles?
You can do it with us!