New FABO POWERMIX-130 CONCRETE PLANT | NEW GENERATION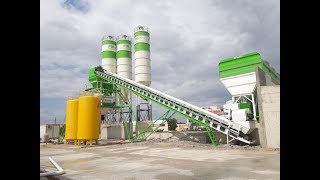 1/22
Location
Brazil
Placed on
more than 1 month
*All of our products are made with care and covered for 1 year warranty!
*Installation and Operator Training FREE

FABO POWERMIX series Fixed Concrete Batching Plants provide satisfaction of all levels need with practical and effective solutions. Stationary Concrete Batching Plants can easily and efficiently reach high capacity production of homogeneous concrete mixture.
FABO PowerMix Series have easy operating system and lowest investment costs. In addition, the plant provides the use of enterprise resources accurately, so that gaining time-saving will transform to more earnings.

TECHNICAL SPECIFICATIONS:
Model: POWERMİX 130
Production capacity: 130 m3
Mixer type: Twinshaft 3 m3
Aggragate bunker: 4x30 m3
Cement weighing: 1750 kg
Additives weighing: 40 kg
Water weighing: 1000 kg
Cement silo is optional.

Powermix-130 consist of:
• Aggregate Storage Bunker
• Aggregate Weighing Hopper
• Aggregate Weighing Conveyor
• Aggregate Transfer Conveyor
• Twinshaft Mixer
• Mixer Chassis, Walking Platforms, Ladder
• Water Weighing Hopper
• Cement Weighing Hopper
• Admixture Weighing Hopper
• Air Compressor
• Cement Screw Conveyor
• Bolted Cement Silo
• Top Filter, Safety Valve and Accessories
• Control Cabinnet with Air Conditioner
• PC and Automation System
• Control and Power Panel

FOR FURTHER INFORMATION PLEASE FEEL FREE TO CALL US!!!
* Tous nos produits sont faits avec soin et couverts pour 1 an de garantie!
* Formation d'installation et d'opérateur gratuit

Les centrales à béton fixe de la série FABO POWERMIX assurent la satisfaction de tous les niveaux de besoins avec des solutions pratiques et efficaces. Les usines de centrale à béton stationnaire sont facilement atteintes avec la capacité et l'efficacité maximales.
La série FABO PowerMix offre un fonctionnement facile et une efficacité optimale avec les coûts les plus bas. En outre, cette usine se procurer l'utilisation des ressources d'entreprise avec précision, ce qui permet de gagner plus de temps va se transformer en plus de revenus.

SPÉCIFICATIONS TECHNIQUES:

Modèle: POWERMİX 130
Capacité de production: 130 m3
Type de mélangeur: mélangeur à double arbre 3 m3
Bunker agrégé: 4 x 30 m3
Ciment pesant: 1750 kg
Additifs pesant: 40 kg
Pesage de l'eau: 1000 kg
Le silo de ciment est facultatif.

Powermix 130 est composé de:

• Bunker de stockage agrégé
• Trémie de pesage agrégée
• Convoyeur de pesage agrégé
• Convoyeur de transfert agrégé
• Mélangeur à double arbre
• Châssis mélangeur, plateformes de marche, échelle
• Trémie de pesage de l'eau
• Trémie de pesage en ciment
• Trémie de pesage d'admixture
• Compresseur d'air
• Convoyeur à vis de ciment
• Silo à ciment boulonné
• Filtre supérieur, soupape de sécurité et accessoires
• Chambre de contrôle avec climatiseur
• PC et système d'automatisation
• Panneau de commande et de puissance

POUR PLUS D'INFORMATIONS, N'HESITEZ PAS A NOUS CONTACTER!
• Все Наши Оборудования Произведены С Заботой И Вниманием!
• Наши Установки Гарантируются Компанией На 1 Год!
• Установка И Пользовательское Обучение Бесплатно!

Fabo Powermix Серия Стационарных Бетоносмесительных Установок Может Достигать Очень Высокого Производственного Объема С Помощь Практических И Эффективных Решений. Бетоносмесительные Заводы Powermix Очень Эффективные И Имеют Конструкцию, Позволяющую Быстрый И Легкий Осмотр И Ремонт Деталей.
Fabo Powermix Серия Стационарных Бетоносмесительных Заводов Имеет Автоматическое Управление, Статическое/Динамическое Взвешивание Инертных Материалов И Добавок. Бетонные Заводы Имеют Качественные И Выносливые Бетоносмесительные Миксеры Что Гарантирует Высокообъемный И Гомогенную Смесь.
Техническая Характеристика:

Модель: Powermix 130
Производительность: 130 М3
Вид Миксера: Двухвальный Миксер 3 М3
Накопительный Бункер: 4x30 М3
Бункер-Дозатор Цемента: 1750 Кг
Бункер-Дозатор Добавок: 40 Кг
Бункер-Дозатор Воды: 1000 Кг
Цементные Силосы По Желанию.

Powermix-130 Состоит Из:
Накопительный Бункер Инертных Материалов
Бункер-Дозатор Инертных Материалов
Конвейер-Дозатор Инертных Материалов
Конвейер-Подачи Инертных Материалов
Двухвальный Миксер
Бункер-Дозатор Цемента
Бункер-Дозатор Воды
Бункер-Дозатор Добавок
Воздушный Компрессор
Цементный Силос
Шнек Для Подачи Цемента
Клапан Безопастности, Индикаторы Уровня, Аксессуары Цементного Силоса
Контрольная Кабина И Кондиционер
Панель Управления, Пк И Плоттер, Панель Питания

Для Подробной Детали Свяжитесь С Нами!
Important
This offer is for guidance only. Please request more precise information from the seller.
Safety tips
Seller's contacts
Erdal Bozkurt
Languages:
English, Turkish
Utku Yılmaz
Languages:
English, Turkish, French
Besim Bekir
Languages: English, Turkish, Serbian, Macedonian, Albanian
Seller's local time: 01:12 (-03)
Selling machinery or vehicles?
You can do it with us!