The ad New CONSTMACH 30 M3 Mini Mobile Concrete Plant - Mobicom 30 has been sold and is not included in the search!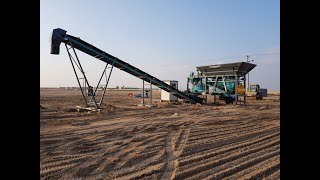 1/18
Model
30 M3 Mini Mobile Concrete Plant - Mobicom 30
Year of manufacture
01/2021
Location
Turkey
İzmir
Placed on
more than 1 month
CONSTMACH is the leader concrete batching plant, crusher and concrete block machine manufacturer of Turkey since its foundation, 2002. Cement silos, sand screening and washing plants, mobile crushers are other product types which are manufactured by CONSTMACH.
Our products are exported to over fifty countries on five continents. USA, France, Spain, Canada, Mexico, Holland, Switzerland, Poland, Ukraine, Bulgaria, North Macedonia, Slovenia, Slovakia, Serbia, Sweden, Hungary, Romania, Latvia, Egypt, Morocco, are some of the countries where our plants are preferred by our clients.
All of our products are CE certificated and covered with 2 years' warranty
Mobile Concrete Plant - Mobicom 30 Technical specifications :

Aggregate Hopper Volume: 4 x 6 m³
Aggregate Weighing Hopper:0.75 m³
Aggregate Transfer Conveyor:800 x 16.000 mm
Mixer Wet Concrete Volume: 0.5m³ (Pan –single Shaft-Planetary)
Cement Weighing Hopper:300 kg
Water Weighing Hopper: 200lt
Additive Weighing Hopper: 10 lt
Air Compressor: 300 lt, 5.5 kW
Cement Silo:Optional from 50 to 200 tonnes capacity.
Control Type: FULL AUTOMATIC

Here are some advantages of our MOBICOM 30 concrete plant:
Unlike classical mobile concrete plants, our MOBICOM 30 concrete plant can be shipped within only 1 pcs 40ft Container.
It requires minimum site preparation and does not require a mobile crane for the installation. Only a loader is enough.
If you supply the cement in bags, you can use this plant without investing in a cement silo.
The plant can be shipped by a truck between your jobsites easily.