The ad New ZIM ZIM 12 Concrete Block (Hollow Block) Machine block making machine has been sold and is not included in the search!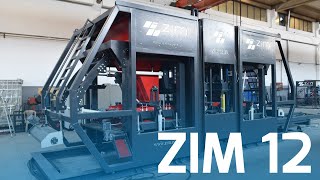 1/8
Model
ZIM 12 Concrete Block (Hollow Block) Machine
Type
block making machine
Location
Turkey
Saray Mahallesi 600 Cadde No:01Kahramankazan
Description
Overall dimensions
16.5 m × 9.6 m × 6 m
Control system Full Automatic (PLC)
Pallet Dimensions Pallet with Leg:1400mmx1450mmx50mm
Rack system: 1400mmx1450mmx50mm
Mould Usage Area 1300mm x 1350mm
Minimum Product Height 50 mm
Maximum Product Height 300 mm
Pressing Time 17 – 25 seconds
Capacity of Motrar Bunker 2 x 2500 dm³
Working Pressure 80 – 150 bar
Total Electric Power*
Electric System Schneider - Siemens
ZIM 12 Beton Blok (Bims) Makinası; blok üretimi için özel olarak dizayn edilmiştir ve tam otomatik olarak çalışan bir makinedir. Makinenin hareketleri bir PLC mikro işlemci bilgisayarla programlanmıştır.

SIEMENS S7 1200 Model PLC kullanılan otomasyon sistemimiz, ZİM MÜHENDİSLİK MÜHENDİSLERİ tarafından özel olarak hazırlanan proğram ve operaötör arayüzü sayesinde tüm makineyi tamamen kontrol altıda tutmaktadır.

Opratör panelimizde üretim sayıları,üretim reçeteleri,arıza tespit sayfaları gibi tüm işimizi kolaylaştıracak bilgilere erişmek çok kolaydır.

Otomasyon sistemimizde mevcut olan UZAKTAN ERİŞİM SİSTEMİ sayesinde müşteri isteği doğrultusunda ZİM MÜHENDİSLİK MÜHENDİSLERİ istenilenyardımı hızlıca verebilmektedir.

Kalıp değiştirmek suretiyle her ölçüde bims,lento gibi ürünleri seri bir şekilde üretir.

Makinede 20 cm'lik bimsten bir baskıda 12 adet üretilebilir.Makine istenirse izolasyonlu brikette üretebilmektedir.

Firmamızın özel olarak ürettiği vibratör kullanılmaktadır.Bu sayede sorunsuz ve hızlı üretim yapabilmektedir.

Rakiplerinden ayıran üstün özellikleri sayesinde yıllarca sorunsuz ve yedek parçasız üretim yapabilen makinemizin kullanıcı dostu olması işinizi kolaylaştıracaktır.