Scandinavian & UK Machines
In stock: 70 ads
12 years at Machineryline
19 years on the market
New SUMAB SWEDEN R-400 (1600 blocks/hour) Advanced Block Machine block making machine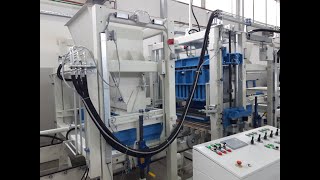 1/21
Model
SWEDEN R-400 (1600 blocks/hour) Advanced Block Machine
Type
block making machine
Location
Sweden
Malmö
Placed on
more than 1 month
Need delivery?
Calculate the cost of delivery
SUMAB R 400

Are you thinking about setting up a concrete block industry business?
Scandinavian & UK Machines is here to help you! Our equipment is among the best in the block production industry! BLOCK PRODUCTION HAS NEVER BEEN SO EASY BEFORE! SWEDISH touch of excellence and reliability!


The SUMAB R 400 block machine is the most advanced machine on the market! Outperforming your competitors is not a question! It is a fact! This machine will make your business profitable like never before!

Production capacity in 8h / 100%: Hollow block: 6,912 pieces (20x20x40 cm)
Paving stone: 550-640 m2 (10x20x6 cm)

Scandinavian quality and good price!
SUMAB R 400

Přemýšlíte o založení konkrétního odvětví blokového průmyslu?
Skandinávské a britské stroje jsou tu, aby vám pomohly! Naše zařízení patří k nejlepším v oboru výroby bloků! BLOKOVÁ VÝROBA NIKDY NEBOLE JEDNODUCHÉ! ŠVÉDSKO dotek excelence a spolehlivosti!


Blokovací stroj SUMAB R 400 je nejpokročilejší stroj na trhu! Překonat své konkurenty není otázka! To je fakt! Tento stroj zajistí, že vaše firma bude rentabilní jako nikdy předtím!

Výrobní kapacita v 8h / 100%: Dutý blok: 6 912 kusů (20x20x40 cm)
Dlažba: 550-640 m2 (10x20x6 cm)
Skandinávská kvalita a dobrá cena!
Denken Sie darüber nach, ein Unternehmen für die Betonblockindustrie aufzubauen?
Scandinavian & UK Machines ist hier, um Ihnen zu helfen! Unsere Ausrüstung gehört zu den besten in der Blockproduktion! BLOCK PRODUCTION war noch nie so einfach! SCHWEDISCHER Hauch von Exzellenz und Zuverlässigkeit!


Die Blockmaschine SUMAB R 400 ist die fortschrittlichste Maschine auf dem Markt! Es ist keine Frage, Ihre Konkurrenten zu übertreffen! Es ist eine Tatsache! Diese Maschine macht Ihr Geschäft rentabel wie nie zuvor!

Produktionskapazität in 8h / 100%: Hohlblock: 6.912 Stück (20x20x40 cm)
Pflasterstein: 550-640 m2 (10x20x6 cm)
Skandinavische Qualität und guter Preis!
SUMAB R 400

¿Estás pensando en establecer un negocio de la industria de bloques de hormigón?
¡Scandinavian & UK Machines está aquí para ayudarlo! ¡Nuestro equipo está entre los mejores en la industria de producción de bloques! ¡LA PRODUCCIÓN DE BLOQUES NUNCA HA SIDO TAN FÁCIL ANTES! ¡Toque SUECO de excelencia y fiabilidad!


¡La máquina de bloques SUMAB R 400 es la máquina más avanzada del mercado! ¡Superar a sus competidores no es una pregunta! ¡Es un hecho! ¡Esta máquina hará que su negocio sea rentable como nunca antes!

Capacidad de producción en 8h / 100%: bloque hueco: 6,912 piezas (20x20x40 cm)
Adoquín: 550-640 m2 (10x20x6 cm)
Calidad escandinava y buen precio!
Envisagez-vous de créer une entreprise de l'industrie des blocs de béton?
Scandinavian & UK Machines est là pour vous aider! Notre équipement est parmi les meilleurs de l'industrie de la production de blocs! LA PRODUCTION DE BLOC N'A JAMAIS ÉTÉ AUSSI FACILE AVANT! Touche SUEDOISE d'excellence et de fiabilité!


La machine bloc SUMAB R 400 est la machine la plus avancée du marché! Surpasser vos concurrents n'est pas une question! C'est un fait! Cette machine rendra votre entreprise rentable comme jamais auparavant!

Capacité de production en 8h / 100%: Bloc creux: 6 912 pièces (20x20x40 cm)
Pavé uni: 550-640 m2 (10x20x6 cm)
Qualité scandinave et bon prix!
SUMAB R 400

Egy konkrét blokk ipari vállalkozás létrehozására gondolsz?
Skandináv és brit gépek vannak itt, hogy segítsen! Berendezéseink a blokkgyártás iparának legjobbjai között vannak! A BLOKK GYÁRTÁS MEGTEGYEZTETÉSE Soha nem volt ilyen egyszerű. A svéd kiválóság és megbízhatóság!


A SUMAB R 400 blokkgép a legfejlettebb gép a piacon! A versenytársak túlteljesítése nem kérdés! Ez egy tény! Ez a gép olyan jövedelmezővé teszi az üzleti vállalkozást, mint még soha!

Termelési kapacitás 8h / 100% -ban: Üreges blokk: 6912 darab (20x20x40 cm)
Burkolókő: 550-640 m2 (10x20x6 cm)
Skandináv minőség és jó ár!
SUMAB R 400

Stai pensando di avviare un'attività nel settore dei blocchi di cemento?
Scandinavian & UK Machines è qui per aiutarti! Le nostre attrezzature sono tra le migliori nel settore della produzione di blocchi! LA PRODUZIONE DI BLOCCHI NON È MAI STATA COSÌ FACILE PRIMA! Tocco svedese di eccellenza e affidabilità!


La macchina a blocchi SUMAB R 400 è la macchina più avanzata sul mercato! Superare i tuoi concorrenti non è una domanda! È un fatto! Questa macchina renderà la tua attività redditizia come mai prima d'ora!

Capacità di produzione in 8 ore / 100%: blocco vuoto: 6.912 pezzi (20x20x40 cm)
Pietra per lastricati: 550-640 m2 (10x20x6 cm)
Qualità scandinava e buon prezzo!
SUMAB R 400

Overweegt u een bedrijf voor betonblokken op te zetten?
Scandinavian & UK Machines is er om u te helpen! Onze apparatuur behoort tot de beste in de blokproductie-industrie! BLOKPRODUCTIE IS NOG NOOIT ZO EENVOUDIG VOORAF! ZWEEDS vleugje uitmuntendheid en betrouwbaarheid!


De SUMAB R 400-blokmachine is de meest geavanceerde machine op de markt! Je concurrenten overtreffen is geen vraag! Het is een feit! Deze machine maakt uw bedrijf winstgevender dan ooit!

Productiecapaciteit in 8 uur / 100%: hol blok: 6.912 stuks (20x20x40 cm)
Straatsteen: 550-640 m2 (10x20x6 cm)
Scandinavische kwaliteit en goede prijs!
Czy myślisz o założeniu firmy z branży betonowych bloków?
Skandynawskie i brytyjskie maszyny pomogą Ci! Nasze urządzenia należą do najlepszych w branży produkcji bloków! PRODUKCJA BLOKU NIGDY NIE BYŁA TAK ŁATWA! SZWEDZKI dotyk doskonałości i niezawodności!


Blokowa maszyna SUMAB R 400 jest najbardziej zaawansowaną maszyną na rynku! Osiąganie lepszych wyników od konkurencji nie jest pytaniem! To jest fakt! Ta maszyna sprawi, że Twoja firma będzie rentowna jak nigdy dotąd!

Zdolności produkcyjne w 8h / 100%: pustak: 6912 sztuk (20x20x40 cm)
Kostka brukowa: 550-640 m2 (10x20x6 cm)
Skandynawska jakość i dobra cena!
С помощью стационарного вибропресса SUMAB R-400 можно производить различные виды бетонных изделий: тротуарную плитку, блоки (пустотелые, изоляционные, шлакоблоки, финблоки и др.), бордюры, брусчатку, элементы для дымоходов и др. Продукцию можно выпускать с дополнительным слоем краски и твердой поверхности.

Вибропресс может быть поставлен в полуавтоматическом или полностью автоматическом режимах работы.

Производительность: 6912 блоков в смену (8 ч) (20x20x40 см, пустотелые блоки), 550-640 м3 в смену (8 ч) (брусчатка), 1600-2000 м3 в смену (8 ч) (бордюры, в зависимости от размера и наличия дополнительного слоя).

Потребление энергии, макс. – 23 кВт.

Объем бетонного бункера – 900 л. Объем дополнительного бункера материалов для нанесения краски и твердой поверхности изделий: - 900 л.


Максимальная высота продукта: 330 мм. Минимальная высота продукта: 40 мм.

Максимальная производственная площадь: 1100-1150 x 500 мм.

Вы можете заказать дополнительные опции: элеватор, бетонный узел, доп. пресс-формы и т.д.

Преимущества стационарной блок-машины SUMAB R-400

Оснащена современной вибрационной системой Oli Vibrator.
Наличие большого количества узлов и агрегатов позволяет делать блок линию модульной (по типу Lego), в результате чего сборка линии осуществляется «под ключ», в зависимости от потребности клиента.
Оснащена современной гидравлической системой (Германия).

Стационарный вибропресс SUMAB R-400 Вам подойдет, если:

Вы планируете выпускать разнообразные бетонные изделия.
Вы планируете выпускать большой объём продукции.
Вы планируете выпускать продукцию в цвете.
Вы хотите наладить производство с минимальным использованием ручного труда (при заказе полностью автоматической линии – управление компьютером).
Ali razmišljate o ustanovitvi podjetja za betonske bloke?
Skandinavski in UK stroji so tu, da vam pomagajo! Naša oprema je med najboljšimi v industriji blokov! BLOK PROIZVODNJE NIKOLI NI BILO PREDEN! ŠVEDSKI dotik odličnosti in zanesljivosti!


Blok stroj SUMAB R 400 je najbolj napreden stroj na trgu! Prekoračitev konkurentov ni vprašanje! Dejstvo je! Ta stroj bo vaše podjetje donosno kot še nikoli!

Proizvodna zmogljivost v 8h / 100%: votel blok: 6.912 kosov (20x20x40 cm)
Tlakovnik: 550-640 m2 (10x20x6 cm)
Uvažujete nad založením konkrétneho odvetvia podnikania v odbore blokov?
Škandinávske a britské stroje sú tu, aby vám pomohli! Naše zariadenie patrí k najlepším v oblasti výroby blokov! BLOKOVÁ VÝROBA NIKDY NIKDY NEBOLO JEDNODUCHÉ! ŠVÉDSKO dotyk dokonalosti a spoľahlivosti!


Blokovací stroj SUMAB R 400 je najmodernejším strojom na trhu! Výkonnosť vašich konkurentov nie je otázkou! To je pravda! Tento stroj zaistí, že vaša firma bude rentabilná ako nikdy predtým!

Výrobná kapacita v 8 h / 100%: Dutý blok: 6 912 kusov (20x20x40 cm)
Dlažba: 550-640 m2 (10x20x6 cm)
Important
This offer is for guidance only. Please request more precise information from the seller.
Safety tips
Seller's contacts
Kirill
Languages:
English, Swedish, Russian
Sweden, Skane, SE 21124, Malmö, Bjurögatan 48
Seller's local time: 06:06 (CEST)
Selling machinery or vehicles?
You can do it with us!