Scandinavian & UK Machines
In stock: 70 ads
12 years at Machineryline
19 years on the market
New SUMAB ADVANCED MODEL! R-400 (800blocks/hour) Stationary Block Machine block making machine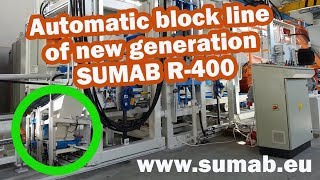 1/9
Model
ADVANCED MODEL! R-400 (800blocks/hour) Stationary Block Machine
Type
block making machine
Location
Sweden
Malmö
Placed on
more than 1 month
Need delivery?
Calculate the cost of delivery
ARE YOU THINKING ABOUT SETTING UP A CONCRETE BLOCK INDUSTRY BUSINESS?
Scandinavian & UK Machines is here to help YOU! Our equipment is among the best in the block production industry! BLOCK PRODUCTION HAS NEVER BEEN SO EASY BEFORE! SWEDISH touch of excellence and reliability!
THE SUMAB R 400 BLOCK MACHINE IS THE MOST ADVANCED MACHINE ON THE MARKET! OUTPERFORMING YOUR COMPETITORS IS NOT A QUESTION! IT IS A FACT! THIS MACHINE WILL MAKE YOUR BUSINESS PROFITABLE LIKE NEVER BEFORE!
Production capacity in 8h / 100%: Hollow block: 6,912 pieces (20x20x40 cm)
Paving stone: 550-640 m2 (10x20x6 cm)
Scandinavian quality and good price!
CONTACT US FOR PRICING AND TECHNICAL SPECS! WE WILL PROVIDE YOU WITH THE BEST SOLUTION FOR YOUR BUSINESS PROJECTS!
CHECK VIDEO:
show contacts
Denken Sie darüber nach, ein Betonblock-Industrieunternehmen aufzubauen?
Scandinavian & UK Machines ist hier, um Ihnen zu helfen! Unsere Ausrüstung gehört zu den besten in der Blockproduktion! BLOCK PRODUCTION war noch nie so einfach! SCHWEDISCHER Hauch von Exzellenz und Zuverlässigkeit!  
DIE SUMAB R 400 BLOCK MASCHINE IST DIE AM MEISTEN ERWEITERTE MASCHINE AUF DEM MARKT! Das Überholen Ihrer Konkurrenten ist keine Frage! ES IST EINE TATSACHE! DIESE MASCHINE MACHT IHR UNTERNEHMEN WIE NIE VORHER GEWINNBAR!
Produktionskapazität in 8h / 100%: Hohlblock: 6.912 Stück (20x20x40 cm)
Pflasterstein: 550-640 m2 (10x20x6 cm)
Skandinavische Qualität und guter Preis!
KONTAKTIEREN SIE UNS FÜR PREISE UND TECHNISCHE SPEZIFIKATIONEN! WIR BIETEN IHNEN DIE BESTE LÖSUNG FÜR IHRE GESCHÄFTSPROJEKTE!
VIDEO PRÜFEN:
show contacts
VOUS PENSEZ À CRÉER UNE ENTREPRISE D'INDUSTRIE DE BLOC DE BÉTON?
Scandinavian & UK Machines est là pour VOUS aider! Notre équipement est parmi les meilleurs de l'industrie de la production de blocs! LA PRODUCTION DE BLOC N'A JAMAIS ÉTÉ AUSSI FACILE AVANT! Touche SUEDOISE d'excellence et de fiabilité!  
LA MACHINE BLOC SUMAB R 400 EST LA MACHINE LA PLUS AVANCÉE DU MARCHÉ! SURPASSER VOS CONCURRENTS N'EST PAS UNE QUESTION! C'EST UN FAIT! CETTE MACHINE RENDRA VOTRE ENTREPRISE RENTABLE COMME JAMAIS AVANT!
Capacité de production en 8h / 100%: Bloc creux: 6 912 pièces (20x20x40 cm)
Pavé uni: 550-640 m2 (10x20x6 cm)
Qualité scandinave et bon prix!
CONTACTEZ-NOUS POUR LES PRIX ET LES SPÉCIFICATIONS TECHNIQUES! NOUS VOUS OFFRIRONS LA MEILLEURE SOLUTION POUR VOS PROJETS D'AFFAIRES!
VÉRIFIER LA VIDÉO:
show contacts
С помощью стационарного вибропресса Sumab R-400 можно производить различные виды бетонных изделий: тротуарную плитку, блоки (пустотелые, изоляционные, шлакоблоки, финблоки и др.), бордюры, брусчатку, элементы для дымоходов и другие. Продукцию можно выпускать с дополнительным слоем краски и твердой поверхности.
Вибропресс может быть поставлен в полуавтоматическом или полностью автоматическом режимах работы.
Производительность: 6912 блоков в смену (8 ч) (20x20x40 см, пустотелые блоки), 550-640 м3 в смену (8 ч) (брусчатка), 1600-2000 м3 в смену (8 ч) (бордюры, в зависимости от размера и наличия дополнительного слоя).
Потребление энергии, макс. – 23 кВт.
Объем бетонного бункера – 900 л. Объем дополнительного бункера материалов для нанесения краски и твердой поверхности изделий: - 900 л.
Вес машины с оборудованием для дополнительного слоя краски и твердой поверхности изделий и пресс-формами: 6500 кг.
Максимальная высота продукта: 330 мм. Минимальная высота продукта: 40 мм.
Максимальная производственная площадь: 1100-1150 x 500 мм.
Вы можете заказать дополнительные опции: элеватор, бетонный узел, доп. пресс-формы и т.д.
Преимущества стационарной блок-машины SUMAB R-400
Оснащена современной вибрационной системой Oli Vibrator.
Наличие большого количества узлов и агрегатов позволяет делать блок линию модульной (по типу Lego), в результате чего сборка линии осуществляется «под ключ», в зависимости от потребности клиента.
Оснащена современной гидравлической системой (Германия).
Стационарный вибропресс SUMAB R-400 Вам подойдет, если:
Вы планируете выпускать разнообразные бетонные изделия.
Вы планируете выпускать большой объём продукции.
Вы планируете выпускать продукцию в цвете.
Вы хотите наладить производство с минимальным использованием ручного труда (при заказе полностью автоматической линии – управление компьютером).
При заказе полностью автоматической комплектации интернет-модем в подарок!
Скандинавское качество и хорошая цена!
show contacts
show contacts
show contacts
Important
This offer is for guidance only. Please request more precise information from the seller.
Safety tips
Seller's contacts
Kirill
Languages:
English, Swedish, Russian
Sweden, Skane, SE 21124, Malmö, Bjurögatan 48
Seller's local time: 06:47 (CEST)
Selling machinery or vehicles?
You can do it with us!