The ad Mercedes-Benz Sprinter 316 ambulance has been sold and is not included in the search!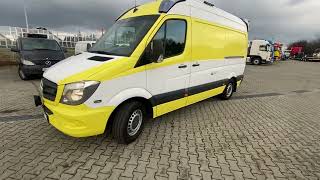 1/22
First registration
2015-07-27
Location
Poland
ŁAZISKA GÓRNE
Placed on
more than 1 month
Purchase on credit is possible
Description
Overall dimensions
6.25 m × 2.2 m × 3.1 m
Engine
Fuel consumption
11 l/100km
Cabin
Cruise control (tempomat)
Electrically operated mirrors
Very well-kept and operational.
There are no items such as electronic medical equipment or oxygen cylinders that were taken by the Danish Ambulance Service.
Stretcher without connection to pneumatics.
Besides, the equipment of a medical ambulance.
We can arrange more of the same pieces.
The car looks like a maximum mileage of 200 tkm.
At this price, a set of documents for registration, without excise duty, which does not have to be necessary for a specialist car.
In Denmark, it was serviced all the time.
Car dimensions:
Length: 620 cm
Width: 220 cm
Height: 270 cm
Rescue space dimensions: 320cm * 130cm wide * 190cm. height ..
Sound signals and signaling devices functional.
Inspection report:
Sheet metal elements in factory parameters
Nokian 235 / 65R 16 C tires.
Glass: All original from 2015 Saint Gobin
————
At the same time, be aware that used equipment that has been used for many years often has its own features or defects that we are unable to fix.
That is why we do not write in our advertisements such phrases as most sellers, such as: "showroom" or "does not require any financial contribution", because this is simply not true, and new cars are in fact available at the showroom at a price several times more often more expensive. .
-——-
Attention importers!
Possibility of delivery to the port of Gdansk for worldwide freight. Price + 300 € only.
Bremenhaven price + € 800.
————
Dear Customer!
If you want to buy a decent car, WELCOME TO US.
If YOU ONLY GUIDE YOURSELF BY THE PRICE, and parameters such as: ACTUAL COURSE OR ACCIDENTITY are SECONDARY VALUES for you, then in our humble opinion, a DAMAGE to your and our time.
Muy bien cuidado y operativo.
No hay elementos como equipos médicos electrónicos o cilindros de oxígeno que hayan sido llevados por el Servicio de Ambulancias de Dinamarca.
Camilla sin conexión a neumática.
Además, el equipamiento de una ambulancia médica.
Podemos arreglar más de las mismas piezas.
El coche parece un kilometraje máximo de 200 tkm.
A este precio, un juego de documentos para matriculación, sin impuestos especiales, que no tiene por qué ser necesario para un coche especializado.
En Dinamarca, se revisó todo el tiempo.
Dimensiones del coche:
Longitud: 620cm
Ancho: 220cm
Altura: 270cm
Dimensiones del espacio de rescate: 320cm * 130cm ancho * 190cm. altura ..
Señales de sonido y dispositivos de señalización funcionales.
Reporte de inspección:
Elementos de chapa en parámetros de fábrica
Neumáticos Nokian 235/65R 16C.
Vidrio: Todo original de 2015 Saint Gobin
————
Al mismo tiempo, tenga en cuenta que los equipos usados ​​que se han utilizado durante muchos años a menudo tienen sus propias características o defectos que no podemos reparar.
Es por eso que no escribimos en nuestros anuncios frases como la mayoría de los vendedores, como: "sala de exhibición" o "no requiere ninguna contribución financiera", porque esto simplemente no es cierto, y de hecho, los autos nuevos están disponibles en la sala de exhibición en un precio varias veces más a menudo más caro. .
-——-
¡Atención importadores!
Posibilidad de entrega al puerto de Gdansk para carga mundial. Precio + 300€ solo.
Precio Bremenhaven + 800€.
————
¡Estimado cliente!
Si quieres comprar un auto decente, BIENVENIDO A NOSOTROS.
Si USTED SÓLO SE GUIA POR EL PRECIO, y parámetros como: RUMBO REAL O ACCIDENCIA son VALORES SECUNDARIOS para usted, entonces en nuestra humilde opinión, un DAÑO para su tiempo y el nuestro.
Molto curato e operativo.
Non ci sono oggetti come apparecchiature mediche elettroniche o bombole di ossigeno che sono stati presi dal servizio di ambulanza danese.
Barella senza collegamento alla pneumatica.
Inoltre, l'equipaggiamento di un'ambulanza medica.
Possiamo organizzare più degli stessi pezzi.
L'auto ha un chilometraggio massimo di 200 tkm.
A questo prezzo, un set di documenti per l'immatricolazione, senza accisa, che non deve essere necessario per un'auto specializzata.
In Danimarca, è stato revisionato tutto il tempo.
Dimensioni auto:
Lunghezza: 620 cm
Larghezza: 220 cm
Altezza: 270 cm
Dimensioni dello spazio di salvataggio: 320 cm * 130 cm di larghezza * 190 cm. altezza ..
Segnali acustici e dispositivi di segnalazione funzionanti.
Rapporto di ispezione:
Elementi in lamiera nei parametri di fabbrica
Pneumatici Nokian 235 / 65R 16 C.
Vetro: Tutto originale Saint Gobin del 2015
————
Allo stesso tempo, tieni presente che le apparecchiature usate che sono state utilizzate per molti anni hanno spesso le loro caratteristiche o difetti che non siamo in grado di correggere.
Ecco perché nei nostri annunci non scriviamo frasi come la maggior parte dei venditori, come: "showroom" o "non richiede alcun contributo finanziario", perché questo semplicemente non è vero e le auto nuove sono infatti disponibili presso lo showroom all'indirizzo un prezzo molte volte più spesso più caro. .
-----
Attenzione importatori!
Possibilità di consegna al porto di Danzica per il trasporto in tutto il mondo. Prezzo + 300 € solo.
Prezzo Bremenhaven + € 800.
————
Caro cliente!
Se vuoi comprare un'auto decente, BENVENUTO DA NOI.
Se TI GUIDI SOLO DAL PREZZO, e parametri quali: CORSO ATTUALE O INCIDENTE sono per te VALORI SECONDARI, allora, a nostro modesto parere, un DANNO al tuo e al nostro tempo.
Bardzo zadbany i sprawny .
Brak takich elementów jak elektroniczny sprzęt medyczny czy butle z tlenem które zostały zabrane przez duńskie Pogotowie.
Nosze bez podłączenia do pneumatyki .
Pozatym wyposażenie ambulansu medycznego .
Możemy zorganizować więcej takich samych sztuk .
Auto wygląda na maksymalny przebieg 200 tkm.
W tej cenie komplet dokumenty do rejestracji ,bez akcyzy ,która przy samochodzie specjalistycznym nie musi być konieczna .
W Danii była cały czas ba bierząco serwisowana .
Wymiary auta :
Długość : 620 cm
Szerokość : 220 cm
Wysokość : 270 cm
Wymiary przestrzeni ratowniczej : 320 cm * 130 cm szerokość * 190 cm. wysokość ..
Sygnały dźwiękowe i sygnalizatory sprawne .
Raport z oględzin :
Elementy blacharskie w parametrach fabrycznych
Opony Nokian 235/65R 16 C.
Szyby : wszystkie oryginalne z 2015 r. Saint Gobin
————
Jednocześnie być świadomy ,iż sprzęt wieloletni używany ma często swoje cechy , czy wady , których wszystkich nie jesteśmy w stanie naprawić .
Dlatego nie piszemy w swoich ogłoszeniach takich sformułowań jak większość sprzedających typu : "stan salonowy " , czy "nie wymaga żadnego wkładu finansowego " ,bo to po prostu nie prawda jest, a samochody nowe są w rzeczywistości do nabycia w salonie po kilkukrotnie często droższej cenie.
-——-
Uwaga importerzy !
Możliwość dostarczenia do portu w Gdańsku celem frachtu na cały świat . Cena + 300€ tylko .
Bremenhaven cena + 800€ .
————
Szanowny Kliencie!
Jeśli pragniesz zakupić PORZĄDNE AUTO, TO ZAPRASZAMY DO NAS.
Jeśli TYLKO SUGERUJESZ SIĘ CENĄ, a takie parametry jak: RZECZYWISTY PRZEBIEG CZY BEZWYPADKOWOŚĆ to dla Ciebie WARTOŚCI DRUGORZĘDNE, to naszym skromnym zdaniem SZKODA Twojego i naszego CZASU.
——
NINIEJSZE OGŁOSZENIE MA CHARAKTER JEDYNIE INFORMACYJNY I NIE STANOWI OFERTY W MYŚL ART. 66, § 1. KODEKSU CYWILNEGO. NASZA FIRMA NIE PONOSI ODPOWIEDZIALNOŚCI ZA DROBNE BŁĘDY ORAZ ZAWARTE W OGŁOSZENIU NIEKOMPLETNE INFORMACJE LUB NIEAKTUALNOŚĆ OGŁOSZENIA.
Foarte bine intretinut si operational.
Nu există articole precum echipamente medicale electronice sau butelii de oxigen care au fost preluate de Serviciul Danez de Ambulanță.
Targa fara conexiune la pneumatica.
În plus, echipamentul unei ambulanțe medicale.
Putem aranja mai multe piese din aceleași.
Mașina arată ca un kilometraj maxim de 200 tkm.
La acest preț, un set de acte de înmatriculare, fără accize, care nu trebuie neapărat să fie necesar pentru o mașină de specialitate.
În Danemarca, a fost întreținut tot timpul.
Dimensiuni masina:
Lungime: 620 cm
Latime: 220 cm
Inaltime: 270 cm
Dimensiuni spatiu de salvare: 320cm * 130cm latime * 190cm. inaltime..
Semnale sonore și dispozitive de semnalizare funcționale.
Raport de inspectie:
Elemente din tablă în parametrii din fabrică
Anvelope Nokian 235 / 65R 16 C.
Sticla: Toate originale din 2015 Saint Gobin
————
În același timp, rețineți că echipamentul uzat care a fost folosit de mulți ani are adesea propriile caracteristici sau defecte pe care nu le putem remedia.
De aceea, nu scriem în reclamele noastre expresii precum majoritatea vânzătorilor, cum ar fi: "showroom" sau "nu necesită nicio contribuție financiară", pentru că pur și simplu nu este adevărat, iar mașini noi sunt de fapt disponibile la showroom la un preț de câteva ori mai des mai scump. .
-——-
Atenție importatori!
Posibilitatea de livrare în portul Gdansk pentru mărfuri la nivel mondial. Pret + doar 300 €.
Preț Bremenhaven + 800 €.
————
Dragă client!
Dacă doriți să cumpărați o mașină decentă, BINE AȚI LA NOI.
Daca VA GANDITI NUMAI DUPA PRET, iar parametri precum: CURSUL REAL SAU ACCIDENTITATEA sunt VALORI SECUNDARE pentru dumneavoastra, atunci in umila noastra parere, un DAUNE pentru timpul dumneavoastra si al nostru.
Дуже збережений та робочий.
Немає таких предметів, як електронне медичне обладнання чи кисневі балони, які забрала данська служба швидкої допомоги.
Носилки без підключення до пневматики.
Крім того, обладнання швидкої медичної допомоги.
Ми можемо скомпонувати більше однакових частин.
Машина на вигляд максимальний пробіг 200 ткм.
За такою ціною пакет документів для реєстрації, без акцизу, який не обов'язково потрібен для спецавто.
В Данії постійно обслуговувався.
Розміри автомобіля:
Довжина: 620 см
Ширина: 220 см
Зріст: 270 см
Розміри рятувального простору: 320 см * 130 см в ширину * 190 см. висота ..
Звукові сигнали та сигналізатори справні.
Звіт про перевірку:
Елементи з листового металу в заводських параметрах
Шини Nokian 235 / 65R 16 C.
Скло: все оригінал від Saint Gobin 2015 року
————
Водночас майте на увазі, що вживане обладнання, яке використовувалося багато років, часто має свої особливості або дефекти, які ми не можемо виправити.
Тому ми не пишемо в наших оголошеннях такі фрази, як більшість продавців, на кшталт: «салон» або «не потребує фінансових внесків», тому що це просто неправда, а нові автомобілі дійсно є в автосалоні за адресою ціна в кілька разів частіше дорожча..
-——-
До уваги імпортерів!
Можливість доставки до порту Гданськ для вантажу по всьому світу. Ціна лише +300 €.
Бременхафен ціна + 800 євро.
————
Дорогий клієнт!
Якщо Ви бажаєте купити гідний автомобіль, ЛАСКАВО ПРОСИМО ДО НАС.
Якщо ВИ КЕРУЄТЕСЯ ЛИШЕ НА ЦІНУ, а такі параметри, як: ФАКТИЧНИЙ ХІД АБО АВАРІЙНІСТЬ є для Вас ВТОРОДОРОДНИМ, то, на нашу скромну думку, ШКОДА вашому та нашому часу.