The ad AIRMAN AX17-2N mini excavator for sale by auction has been sold and is not included in the search!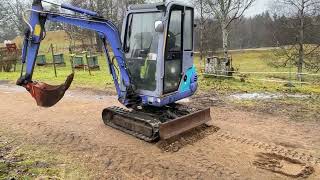 1/16
Location
Sweden
Placed on
more than 1 month
Mini Excavator / Crawler Excavator / Excavator
Manufacturer: Airman
Model: AX17-2N.
Year model: 2002.
Meter reading: 2593 hours.
Engine Kubota diesel. 12.9 kw.
2 speeds.
Weight 1710 kg
Mount: mechanical s30.
Rubber tracks in good condition. Replaced about 100 hours ago.
Dozer blade and boom swing.
Hydraulic expandable crawler.
3 function.

Transport dimensions
Height: 2300 mm.
Width: 1020 mm.
Length: 3500 mm.

Included tools/accessories
Planning bucket with tilt.
Backhoe with cutting / teeth.
Narrow scoop.

Seller's comments
Working condition, no known faults.
There is a little play in the boom turn and shoe bag, nothing abnormal.
Minibagger / Raupenbagger / Bagger
Hersteller: Flieger
Modell: AX17-2N.
Baujahr: 2002.
Zählerstand: 2593 Stunden.
Motor Kubota-Diesel. 12,9kw.
2 Geschwindigkeiten.
Gewicht 1710 kg
Montierung: mechanisch s30.
Gummiketten in gutem Zustand. Vor etwa 100 Stunden getauscht.
Planierschild und Schwenkarm.
Hydraulisch erweiterbare Raupe.
3 Funktion.

Transportmaße
Höhe: 2300 mm.
Breite: 1020 mm.
Länge: 3500 mm.

Mitgeliefertes Werkzeug/Zubehör
Planierlöffel mit Neigung.
Bagger mit Schneiden / Zähnen.
Schmale Schaufel.

Kommentare des Verkäufers
Funktionierender Zustand, keine bekannten Mängel.
Es gibt ein wenig Spiel in der Boom-Wende und im Schuhbeutel, nichts Ungewöhnliches.
Miniekskavaator / Roomikekskavaator / Ekskavaator
Tootja: Airman
Mudel: AX17-2N.
Aasta mudel: 2002.
Arvesti näit: 2593 tundi.
Mootor Kubota diisel. 12,9kw.
2 kiirust.
Kaal 1710 kg
Kinnitus: mehaaniline s30.
Heas korras kummist roomikud. Vahetatud ca 100 tundi tagasi.
Buldooseri tera ja noolekiik.
Hüdrauliline laiendatav roomik.
3 funktsioon.

Transpordi mõõtmed
Kõrgus: 2300 mm.
Laius: 1020 mm.
Pikkus: 3500 mm.

Kaasas tööriistad/tarvikud
Kaldega planeerimiskopp.
Lõike/hammastega ekskavaator.
Kitsas kühvel.

Müüja kommentaarid
Töökorras, teadaolevaid vigu pole.
Poomipöördes ja kingakotis on väike lõtk, ei midagi ebanormaalset.
Mini ekskavatorius / Vikšrinis ekskavatorius / Ekskavatorius
Gamintojas: Airman
Modelis: AX17-2N.
Metų modelis: 2002 m.
Skaitiklio rodmuo: 2593 valandos.
Variklis Kubota dyzelinis. 12,9kw.
2 greičiai.
Svoris 1710 kg
Tvirtinimas: mechaninis s30.
Geros būklės guminiai takeliai. Pakeistas maždaug prieš 100 valandų.
Buldozerio ašmenys ir strėlės sūpynės.
Hidraulinis išplečiamas vikšras.
3 funkcija.

Transportavimo matmenys
Aukštis: 2300 mm.
Plotis: 1020 mm.
Ilgis: 3500 mm.

Komplekte įrankiai/priedai
Planavimo kaušas su pasvirimu.
Ekskavatorius su pjovimu / dantimis.
Siauras kaušelis.

Pardavėjo pastabos
Veikia, defektų nėra.
Yra šiek tiek laisvumo strėlės posūkyje ir batų krepšyje, nieko neįprasto.
Mini ekskavators / Kāpurķēžu ekskavators / ekskavators
Ražotājs: Airman
Modelis: AX17-2N.
Izlaiduma gads: 2002.
Skaitītāja rādījums: 2593 stundas.
Dzinējs Kubota dīzelis. 12,9 kW.
2 ātrumi.
Svars 1710 kg
Stiprinājums: mehānisks s30.
Gumijas kāpurķēdes labā stāvoklī. Nomainīts apmēram pirms 100 stundām.
Buldozera asmens un izlices šūpoles.
Hidrauliski paplašināms kāpurķēžu.
3 funkcija.

Transporta izmēri
Augstums: 2300 mm.
Platums: 1020 mm.
Garums: 3500 mm.

Iekļauti instrumenti/piederumi
Plānošanas spainis ar slīpumu.
Ekskavators ar griešanas/zobiem.
Šaura liekšķere.

Pārdevēja komentāri
Darba stāvoklis, defektu nav zināmu.
Izlices pagriezienā un kurpju somā ir neliela rotaļa, nekas nenormāls.
Minikoparka / Koparka gąsienicowa / Koparka
Producent: Lotnik
Model: AX17-2N.
Rok modelu: 2002.
Odczyt licznika: 2593 godziny.
Silnik wysokoprężny Kubota. 12,9 kW.
2 prędkości.
Waga 1710 kg
Mocowanie: mechaniczne s30.
Gąsienice gumowe w dobrym stanie. Wymienione ok 100 godzin temu.
Lemiesz spycharki i obrót wysięgnika.
Hydraulicznie rozsuwany gąsienica.
3 funkcje.

Wymiary transportowe
Wysokość: 2300 mm.
Szerokość: 1020 mm.
Długość: 3500 mm.

Dołączone narzędzia/akcesoria
Łyżka do planowania z pochyleniem.
Koparka z cięciem / zębami.
Wąska miarka.

Komentarze sprzedawcy
Stan techniczny, brak znanych usterek.
Jest trochę luzu w zakręcie wysięgnika i torbie na buty, nic nienormalnego.
Minigrävare / Bandgrävare / Grävmaskin
Tillverkare: Airman
Modell: AX17-2N.
Årsmodell: 2002.
Mätarställning: 2593 timmar.
Motor Kubota diesel. 12,9 kw.
2 hastigheter.
Vikt 1710 kg
Fäste: mekaniskt s30.
Gummilarver i bra skick. Byttes för ca 100 timmar sedan.
Schaktblad och bomsväng.
Hydraulisk bredbar bandvagn.
3 funktion.

Transportmått
Höjd: 2300 mm.
Bredd: 1020 mm.
Längd: 3500 mm.

Medföljande redskap/tillbehör
Planeringsskopa med tilt.
Grävskopa med skär / tänder.
Smalskopa.

Säljarens kommentarer
Fungerande bruksskick, inga kända fel.
Finns lite glapp i bomsväng och skopås, inget onormalt.